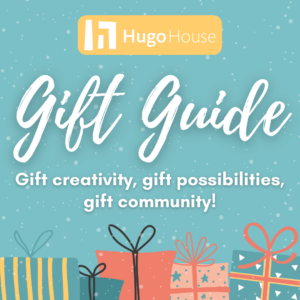 Gift creativity, gift possibilities, gift community!
Whether you're looking to introduce a loved one to creative writing or encourage the aspiring writer in your life, Hugo House has gift options for every writer at every stage in their writing journey. By giving the gift of Hugo House, the writer in your life will have the opportunity to explore their creativity, discover new possibilities in their work, and gain the support of a growing community.
Plus, gifts from Hugo House can be shared electronically, so you don't have to worry about those pesky shipping deadlines!
Give Possibilities
Let them pick with a gift certificate.
Let the writer in your life pick what would be the most meaningful to them, whether that's a class to help them develop new skills, a manuscript consultation, or something else. Give a gift certificate
Give Creativity
Help them kickstart their writing journey.
The Writer's Welcome Kit aims to save a writer 100 hours of work and worry as they go from wanting to be a writer to working to be a writer. It's the first e-course that combines the information you need with the resources professional writers use to get published. Purchase the Writers Welcome Kit
Inspire them to take the next step toward going pro.
Through guided and practical exercises, the Freelance Going Pro asynchronous 12-week course will give writers the confidence to turn their art into a long-term, successful business. Get Freelance Going Pro
Sign them up for a Hugo House class.
If you've browsed the catalog and know which class your friend or loved one would like to take, consider signing them up. General registration for Winter 2023 opens on December 13! Find a class
Give Community
Give a Hugo House membership.
Is the person you're shopping for already a fan of Hugo House? If so, a membership might be just the thing for them. Members get early and discounted class registration every quarter, discounted tickets to our Word Works and Hugo Lit Series to engage further with their literary community, plus discounts at select local businesses, including bookstores. Purchase a membership