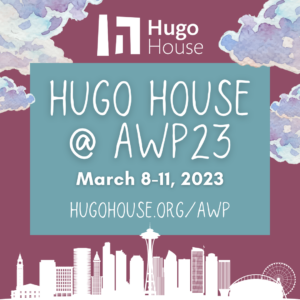 The AWP Conference & Bookfair is coming to Seattle on March 8–11, 2023! The Association of Writers & Writing Programs (AWP) Conference & Bookfair is an annual destination for writers, teachers, students, editors, and publishers of contemporary creative writing and has always been a place of connection, reunion, and joy.
Hugo House is proud to be an AWP Literary Partner. We will be presenting a panel at the conference (requires conference registration), tabling at a booth at the bookfair, and hosting multiple events at Hugo House's Capitol Hill space during the AWP Conference & Bookfair.
Events at Hugo House during AWP
Events happening during AWP at Hugo House are entirely open to the public—no conference registration is required! We do, though, encourage you to reserve a ticket for events in advance, as space is limited. Click on each event below to get your tickets.
All events are offered with sliding scale ticket pricing, from $0-$25. Revenue from ticket sales directly supports Hugo House's mission to provide space for all to read words, hear words, and make their own words better. We encourage you to pick a ticket price that is right for you.
Page Meets Stage: AWP Edition
March 8, 2023 | 7 pm
The 18-year-old poetry series "where the Pulitzer Prize meets the poetry slam" takes the Hugo House stage.
Learn more & get tickets
Write Bloody Poetry Super Showcase & Sock Hop
March 8, 2023 | 9 pm
A showcase of Write Bloody Publishing's best authors with a free dance party afterward.
Learn more & get tickets
We the Indigenous: A Storytelling Celebration
March 9, 2023 | 6 pm
One spectacular night to celebrate the ingenious work of award-winning and acclaimed Indigenous writers and storytellers.
Learn more & get tickets
Rewind/Unwind: A Hugo Fellows Reading
March 10, 2023 | 7 pm
For the first time, former Hugo House Fellows from the 2020-2021 and 2021-2022 cohorts will read live together!
Learn more & get tickets
A Very Important Karaoke Party
March 10, 2023 | 9 pm
The world's first karaoke party of parody songs about being a writer, sung by writers.
Learn more & get tickets
An Evening of Disability Poetry & Poetics
March 11, 2023 | 6:30 pm
Zoeglossia and the Virginia G. Piper Center for Creative Writing at ASU present an evening of disability poetry and poetics.
Learn more & get tickets
Hugo House events at the Convention Center
Hugo House happenings at the Seattle Convention Center during the AWP Conference & Bookfair require registration through AWP. Learn more and register here.
Writing Motherhood in Post-Roe America
A panel featuring Jessamine Chan, Claire Dederer, Angela Garbes, & Sonora Jha exploring parenting, identity, and what can be done to combat the latest crisis facing American families and communities.
Learn More
AWP Bookfair Tabling
Stop by to say hello and chat with Hugo House staff and volunteers at our table at the AWP Bookfair throughout the entire conference.
Learn more & find us