Ask an Editor with Daphne Durham
Join editor Daphne Durham for a free one-hour writing Q&A. Daphne will offer some of her expert tips, tricks, and advice on the art and craft of editing. Come to the call with questions about your work-in-progress or for ideas about how to get on the road to publication.
Registration is limited, so RSVP at the "Tickets" link today. If you RSVP but cannot make the event, please notify our registrar at lily@hugohouse.org so we can open that space to another participant.
---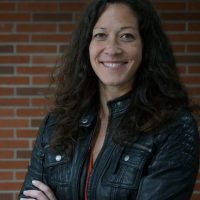 Executive editor at MCDxFSG, Daphne Durham came to Farrar, Straus and Giroux after more than fifteen years at Amazon.com. In her roles as editor-in-chief and publisher for Amazon Publishing, Daphne launched and developed core genre imprints, managed acquisitions across all categories, including genre, literary fiction, and children's books, and created Amazon's first digital literary journal, Day One. At FSG, she publishes Ryan Gattis, Liska Jacobs, Araminta Hall, Kristi Coulter, Shirley Barrett, Katrina Carrasco, Rachel Selfon, Andy Davidson, and Sara Sligar, among others.