Bushwick Book Club: Arnold Lobel's Frog and Toad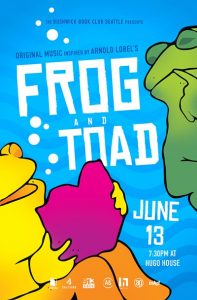 Original Music inspired by Arnold Lobel's Frog and Toad.
Hear your childhood come to musical life with original tunes inspired by Earth's most famous, and most beloved, amphibious duo.
"Humorous, emotion-packed, and full of exuberant dialogue…Frog and Toad emerge throughout the four books as unique, lovable, and remarkably human-like individuals. Wondrous." – The Center for Children's Books
Tickets: $10
---
The Bushwick Book Club Seattle announces its tenth season presenting concerts that feature original music inspired by literature. Each event showcases a lineup of local, professional musicians and artists each offering a fresh response to that evening's source text along with extras like an audience quiz, short film, or scholarly introduction. The Bushwick Book Club Seattle and STYLE: Songwriting Through Youth Literature Education are the twin arms of Bushwick Northwest, a federal 501(c)(3) non-profit arts organization.