Fiston Mwanza Mujila with Roland Glasser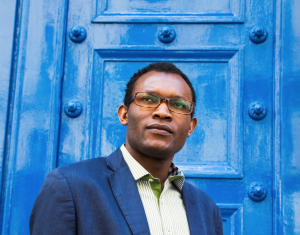 Co-presented by THE ELLIOTT BAY BOOK COMPANY, HUGO HOUSE, CONSULAR AGENCY OF FRANCE in SEATTLE & FRENCH-AMERICAN CHAMBER OF COMMERCE, ALLIANCE FRANCAISE DE SEATTLE.
Join us for an evening with stellar young international voices Fiston Mwanza Mujila, originally from the Democratic Republic of Congo, along with his translator (from the French), Roland Glasser, for an evening devoted to one of the year's most spellbinding novels, Tram 83 (Deep Vellum). Most known before this first novel as a poet, Fiston Mwanza Mujila received the Grand Prix SGDL du Premier Roman, was shortlisted for other prestigious prizes, and has garnered international praise. Set in a nightclub in an unnamed African city-state that draws an incredible cross-section of people on the make, take, give, and shake. It is a rollicking, novel, almost one to be danced to, voices coming from every which way, though the way is always there.
"Fiston Mwanza Mujila took the French literary scene by storm in 2014 .. Tram 83 is the kind of magic one finds only in the best of storytellers, an astute observer of everyday life and a genuine philosopher. HIs words bring to life the city of Lubumbashi, filled with a cast of characters, writers, drunkards, drug dealers, dreamers, lost souls, all living side by side … Fiston's novel has lifted the veil Africa has been compelled to wear over the years .. His voice is original, a genuine breath of fresh air, and will will surely be following this exciting new voice in the years to come. I can hardly believe Tram 83 is a first novel .. .So much creativity, linguistic innovation, and such a pleasure to read!" – Alain Mabanckou, from the Foreword
More information also at 206/624-6600, events@elliottbaybook.com.