Poetry Reading by Maia Penfold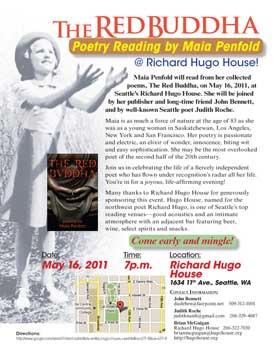 Maia Penfold reads from her collected poems, "The Red Buddha," joined by her publisher and longtime friend John Bennett and poet Judith Roche.
Penfold is as much a force of nature at the age of 83 as she was as a young woman in Saskatchewan, Los Angeles, New York and San Francisco. Her poetry is passionate and electric, an elixir of wonder, innocence, biting wit and easy sophistication. She may be the most overlooked poet of the second half of the 20th century.
Join us in celebrating the life of a fiercely independent poet who has flown under recognition's radar all her life. You're in for a joyous, life-affirming evening!
The reading is free, and the bar will be open.