Writing the City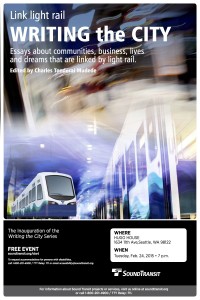 Hugo House and Sound Transit present Writing the City, a literary series edited by Charles Tonderai Mudede, who is also the emcee.
Featured writers will read new work about lives linked by the light rail.
Readers Include:
Maged Zaher
Deepa Bhandaru
Lisa Sturdivant
Marc Lampson
Adrine Arakelian
Cary Moon
Negarra A. Kudumu

There will be a cash bar. The event is free.