Local Celebrity Spelling Bee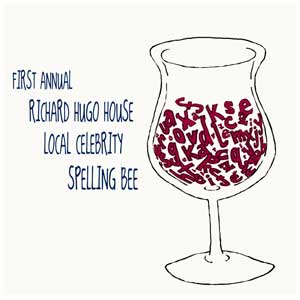 Richard Hugo House's Local Celebrity Spelling Bee is an evening of spelling (and misspelling!), fundraising and celebrating Richard Hugo House, featuring local muckety-mucks in the arts and entertainment as well as students, teachers and members of the Hugo House community.
The spelling bee will work like all those ones in grade school with a slight twist. When a contestant gets the word correct, they get to move on…and when they make a mistake, they'll rely on the generous audience to buy them opportunities to cheat! It's dastardly ("das-terd-lee"), yes—but all proceeds raised at the event will support Hugo House's classes, events and resources for Pacific Northwest writers.
Featuring Stranger books editor Paul Constant, author and forager Langdon Cook, John Roderick of The Long Winters, "Arrested Development" writer Maria Semple, author Stacey Levine, poet and Hugo House founder Frances McCue, author Ryan Boudinot, DJ Riz Rollins from KEXP, Jerry Holkins of Penny Arcade, David Schmader of The Stranger and more!
Get your tickets online here or by calling (206) 322-7030.
Ticket Levels:
Dictionary.com level $25 for general admission
Oxford English Dictionary level $50 (includes reserved table seating and a special invitation to a pre-bee party with the contestants and free food & beer)
Sponsored by: