Are you one of Seattle's next favorite authors?
Hugo House aims to be an incubator for the next great writers. We provide space and resources for four to six emerging Seattle area writers to complete a proposed project. Projects include (but are not limited to) the first draft of a novel, a new memoir, or a chapbook of poetry.
How to Apply
Hugo House accepts applications to the Hugo Fellowship program annually. The application period is open now through April 10, 2023.
Meet the 2022-23 Fellows
Lili Gu
Poetry
Lili Gu is a poet and filmmaker passionate about exploring justice, liberation, and the human condition through storytelling. She studied poetry while in engineering school at Columbia University and went on to receive her MFA in Film Production and Directing from UCLA. Her work has received numerous accolades, screening internationally and on television networks such as PBS. This will be Lili's return to poetry. Her writing works to uncover language away from the white gaze, speaking truth to power on themes of Chinese American assimilation, queerness, and intergenerational strength. She makes art as an act of love—toward visions of an imagined future in which all humans can not just survive, but thrive.
Ari Laurel
Fiction
Ari Laurel is a fiction writer in Seattle who writes about decolonial futures, climate, and the Pacific Northwest. She primarily draws from her experience as a racial justice community organizer in Missoula and a labor organizer in Seattle. Her stories are politically motivated, reflecting a strong current of international solidarity, food sovereignty, land return, and ecological restoration. She is a 2022 Hugo House fellow, a 2022 Fernland Studios artist in residence, and a 2023 June Dodge fellow at the Mineral School. Her work has appeared in Ninth Letter, Passages North, Blue Mesa Review, The Conium Review, The Toast, Duende, and more. Her short story "Farewell Address to the Last Mango in the Pacific Northwest" won first place in Blue Mesa Review's 2021 Summer Fiction contest. This story is currently part of a larger project.
Magda Manning
Poetry
Magda Manning (they/them) is a queer writer and educator from Taos, New Mexico. They received their MFA in Poetry from Sarah Lawrence College in 2019. They're interested in exploring how language expands, and/or limits identity, and how it functions as a process, rather than product, of self-making. They currently work as a K1 teacher, play lots of cribbage with their mom, and live in Seattle with their partner. Their project is a manuscript of poems that explores the connections between landscape, gender, sexuality, transition into adulthood, the movement of home, and many other aspects of their personhood. They are sifting through their memories of memories of memory, wondering about accuracy versus truth, and what happens to a story when it gets written, when it gets shared. 
Nancy Mburu
Fiction
In my writing, I amplify the experiences and stories of East African immigrants in an authentic way that also encompasses our complex relationship with culture, traditions, language, gender dynamics, and race as black diasporans. My style involves uplifting our culture through incorporating my native language Swahili and rooting my stories in its cultural and political context which continues to influence us and how we interact with different tribes and countries herein the diaspora. As a poet, I continue to be a voice that speaks up against injustice by drawing attention to incidences of hypocrisy and inequality regardless of who commits them or how uncomfortable the topic is. My purpose is to tell my story as a Kenyan African and immigrant through my own lens to help others understand our experience while striving for social justice.
Meera Vijayann
Fiction
Meera Vijayann is a writer and essayist based in Kirkland, Washington. As a writer who lives with a chronic illness, she is drawn to social invisibility within South Asian diasporic cultures, and the influence of mayam, the Tamil word for illusion. Her writing is shaped by the decade she spent as a development professional and journalist reporting on sexual violence in India and has appeared in Catapult, Entropy, Electric Literature, and The Guardian, among others. Her essay about how immigration laws separated her from her family won the Medium Writer's Challenge Finalist Prize in 2021. Through her fiction, she hopes to gently peel away the nostalgia that pervades South Asian literature and dive into gaps in collective memory. She is currently working on her debut novel, which explores how the falsehoods perpetuated by America's H1B work visa program affect two young Tamil immigrants.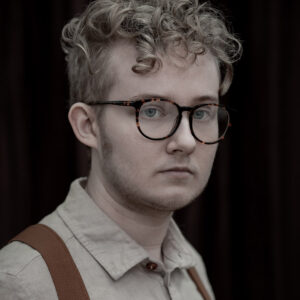 James Washburn
Playwriting/Poetry
James T. Washburn (he/him) is a gay, trans, and disabled Storyteller-Activist based in Seattle. His work is deeply inspired by his community and experiences at the intersection of identities. He is a multi-hyphenate artist, with works spanning from the immersive novella Sealed with Honey to Achilles + Patroclus, a chamber opera commissioned by the Seattle Opera. James takes inspiration from folklore, mythology, and queer history; his work focuses on discovering queerness in traditional stories and reimagining familiar tropes and archetypes through a queer lens. He is the Founding Artistic Director of Magpie Artists' Ensemble, an artistic collective focused on innovative cross-disciplinary storytelling.