A Reading with David St. John
Acclaimed poet David St. John will read from various collections during an intimate evening in the Hugo House Cabaret.
The event is co-sponsored by the UW Creative Writing MFA program and Open Books.
---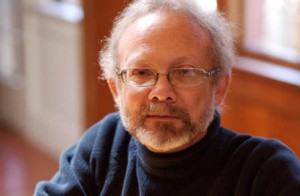 David St. John was born in Fresno, California. He received his bachelor's degree at California State in Fresno and went to the University of Iowa for an M.F.A. His works of poetry include Hush (1976), Terraces of Rain (1991) and The Red Leaves of Night (1999). Most recently he wrote The Face: A Novella in Verse (2004). He has received numerous awards and honors, including the Great Lakes College Association New Writers Award, the James D. Phelan Award, the Academy Award in Literature, and various grants and fellowships. St. John has taught at Oberlin College, Johns Hopkins University, and currently teaches at the University of Southern California, Los Angeles.