Voices from the Edge (or Talk to Me Baby)
Poet JT Stewart and novelist Harold Taw offer comic/sober, late-night readings from their latest books. Rise for blues-inspired Shout-Outs, then lose sobriety and inhibitions in foot-stomping, karaoke jam. What makes you sing or holler on Indigenous People's Day?
The event is free, and the bar is open. Karaoke follows the readings.
About the Writers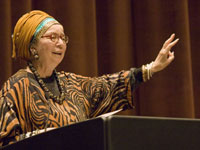 JT Stewart reads from her fourth poetry chapbook, "Love on the Rocks – Yet Again" (2011). By frequently using the blues and 'shout-outs' drawn from her African-American cultural heritage, she challenges conventional ideas about love and language. JT considers herself a proud alum of Hedgebrook, Centrum, Artist Trust's Literary EDGE program and Curator of Jack Straw Writers in Residence (2006). She practices her craft full-time as poet, writer, editor, playwright and teacher-educator. As a public artist (Bumbershoot , NW Folk Life, NPR), JT specializes in poetry broadsides of all sizes and has had her work placed in a range of spaces. These include: Western Washington University, the Seattle Art Museum and permanently in the University of Washington's Allen Library.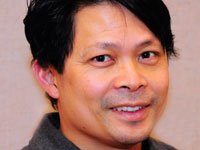 Harold Taw's debut novel, "Adventures of the Karaoke King" (AmazonEncore 2011), is a karaoke grail quest about people who keep falling just short of their dreams. A participant in the 2009 Artist Trust EDGE Program for Writers and the 2011 Jack Straw Writers Program, Harold received an Artist Trust GAP award to research his second novel "Saturday's Child," garnered accolades for his screenplay Dog Park, and had his work featured on NPR and in a New York Times bestselling anthology. Harold graduated from Yale Law School and as a Fulbright Scholar studied prostitution and the AIDS epidemic in rural Thailand.