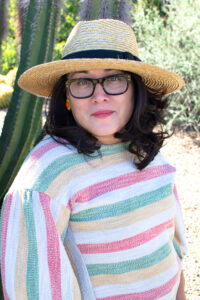 We are pleased to announce today that the Hugo House Board of Directors has named Diana Delgado as Hugo House's new Executive Director. 
Diana was most recently Literary Director of the University of Arizona Poetry Center in Tucson. Diana is a bilingual Spanish-speaking poet and arts administrator committed to diversifying the literary ecosystem. A first-generation Latinx college graduate, she earned a BFA in Creative Writing from UC Riverside and an MFA in Creative Writing from Columbia. She is a Hedgebrook alum, and her volume of poetry, Tracing the Horse, was a New York Times New & Noteworthy pick. Diana has worked for nonprofit organizations including the Coalition for Hispanic Family Services in Brooklyn, NY, and the William J. Clinton Non-Profit Foundation. 
"I am thrilled to join Hugo House at this important time in the organization's history," said Delgado. "Hugo House has answered the call for change and is ready to engage writers and arts supporters who believe that the imagination is the next frontier for making a difference in our communities and our lives. As the new Executive Director, I look forward to forging partnerships within an already dynamic literary community and creating opportunities that can nurture and broaden our work in the service of reading, writing, and free expression."
Learn more about Diana at her website here.
This appointment is the culmination of an extensive, nearly year-long process, with the search conducted by a seven-person committee, including three Hugo House board members, three community members, and a Hugo House staff person, along with the guidance and support of Arts Consulting Group, a leading provider of executive search services for the arts and culture industry.
Thank you to all in our community that have provided feedback, driven this process, and helped us to reach this monumental point. We're tremendously excited for Diana Delgado to begin her work at Hugo House at the end of May.  
Gary Luke 
President, Hugo House Board of Directors 
Chair, Hugo House Executive Director Search Committee