14.3 Hands: A Reading from Lost Horse Press Poets and Friends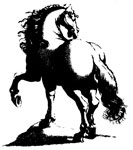 Only at 14.3 hands is a pony considered a horse…at 14.3 years, will Lost Horse Press become a real horse? No, that's not right…it's a full-fledged poetry press!
Celebrate Lost Horse Press as it turns 14.3 years old with a reading featuring the Lost Horse poets and friends, including Susan Rich, Lois Red Elk, Jeremy Halinen, Carolyne Wright, Eugenia Toledo, Tiffany Midge, Libby Wagner, Carlos Reyes and Tom Aslin.
Established in 1998, Lost Horse Press—a nonprofit independent press—publishes poetry titles of high literary merit, and makes available other fine contemporary literature through cultural, educational and publishing programs and activities. The Lost Horse New Poets, Short Books Series, edited by Marvin Bell, is dedicated to works—often ignored by conglomerate publishers—which are so much in danger of vanishing into obscurity in what has become the age of chain stores and mass appeal food, movies, art and books.