Behind the Legend of JT Leroy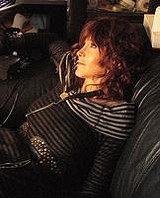 Laura Albert, author of the JT LeRoy books, discusses the acclaimed and controversial literary career of LeRoy, with readings from Albert's fiction by Rebecca Brown, Sean Beaudoin, Nicole Hardy and Garth Stein. Stranger editor-in-chief Christopher Frizzelle will lead an onstage interview with Albert.
In 1999, a teenage former street kid who called himself JT LeRoy published his first novel, Sarah — a stunning fable of loss and survival, which combined humor and shock in a celebration of America's most marginalized: the homeless, sex workers, and transgendered people.
Sarah launched an acclaimed career for the reclusive young man, winning critical praise and a devoted following of readers. JT then published two other startling and original works of fiction, The Heart Is Deceitful Above All Things and Harold's End.
But in 2006, controversy erupted with the revelation that the author of the JT LeRoy books was actually Laura Albert. Yet despite the vicious media backlash that ensued, new readers have never stopped coming to Laura's writing, and her books have continued to sell and win praise and admiration internationally.
TICKETS ARE $25/$20 FOR HUGO HOUSE MEMBERS. GET YOUR TICKETS ONLINE HERE!
This event benefits Richard Hugo House.
About Laura Albert
Laura Albert won international acclaim with her fiction. Writing as JT LeRoy, she is the author of the best-selling novels Sarah and The Heart Is Deceitful Above All Things, and the novella Harold's End, published by Last Gasp with illustrations by Cherry Hood.
She contributes to print and online publications internationally, in a career that includes articles for The New York Times, The London Times, Spin, Film Comment, Filmmaker, Interview, I-D, and Vogue. She was a contributing editor to Black Book, I-D, SOMA, and 7×7 magazines and is currently an editor for Lemon Magazine, Conde Nast Glass magazine, Diane Pernet's A Shaded View On Fashion (www.asvof.com), and the Outpost section of www.psychoPEDIA.com.
Laura's writing has brought her to speaking engagements from the story-telling series The Moth and the Radiolab broadcasts in New York to Foyles bookstore in London and Brazil's international book fair Bienal Brasil do Livro e da Leitura, where Laura and Alice Walker were the 2012 U.S. representatives. Her breakthrough interview given to
Nathaniel Rich was the cover feature of the Fall 2006 issue of The Paris Review.
She wrote the original script for Gus Van Sant's Elephant, winner of the 2003 Palme d'Or at the Cannes Film Festival, and was associate producer. For Asia Argento's film adaptation of The Heart Is Deceitful Above All Things, which premiered at the Cannes Film Festival, Laura served as associate producer. She also co-scripted Jean-Claude Schlim's film House of Boys and was a writer for the HBO series Deadwood.
Sponsored by The Stranger