Black Lives Matter Write-In with Katrina Otuonye
Writing can help us process painful events unfolding around us. But it can be hard to find the focus when we're overwhelmed. To help get started, join us at this free write-in via Zoom, where you'll get writing prompts, time to write, and the opportunity to connect with other writers. Whether you want to journal, blog, or produce other writing, this event will provide a safe space. We'll spend half an hour writing, and half an hour sharing our writing and discussing issues related to writing during a time of protest.
There will be a 15 min optional Q & A at the end of the session.
RSVP at the "Tickets" link for as many sessions as you'd like to attend. You can sign up for them one by one each week, or all at once.
About the Facilitator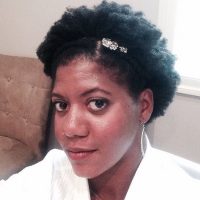 Katrina Otuonye is a writer, editor, and educator from Michigan's Upper Peninsula. She holds a BA from the University of Tennessee and an MFA from Chatham University. She has taught courses in Pittsburgh, Cookeville, Nashville, and Wuhan, China; and presented a pedagogy proposal at the Sorbonne as part of the &Now Festival. She often writes about personal experiences alongside her interests in art history, health disparities, and superheroes. Katrina's fiction and nonfiction have appeared in the Seventh Wave, Atticus Review, Litro Magazine, Crab Orchard Review, and the Toast, among others.