Black Voices on Black Futures
Presented by Hugo House and Jack Straw Cultural Center
In community with Jack Straw Artist Natasha Marin's online exhibit Sites of Power—part of her ongoing Black Imagination project—we present an evening of words and song from Jack Straw Writers and Artists who have been part of this many-pronged project, from the Black Imagination book to the Sites of Power exhibit. Featuring Ebo Barton, Robert Lashley, Maisha Banks Manson, Natasha Marin, and J.R. Rhodes.
RSVP at the "Tickets" link to claim your spot at this free event. All Hugo House events take place in Pacific Time.
---
About the artists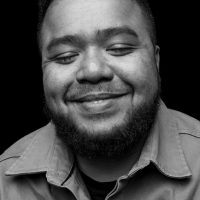 Ebo Barton is a Black and Filipino, Transgender and Non-Binary, poet and educator. Currently residing in Seattle, Washington by way of Los Angeles, California. For the past 12 years, they have participated in national and international poetry slam competitions as a representative of Seattle. Their most notable slam accolade is placing 5th in the world in 2016. You may have seen Ebo's work in Adrienne: A Poetry Journal by Sibling Rivalry Press, Thriving While Trans: A Love Manual, Natasha Marin's Black Imagination, Write About Now (Button Poetry), and All Def Poetry. They and their work have been featured in Seattle Weekly, Seattle Gay News, Seattle Review of Books, and Crosscut. Their work touches on political issues from a personal point of view and often is birthed from the struggles of living in the identities that they are. Ebo believes in the power of language and art as a tool for revolution.
---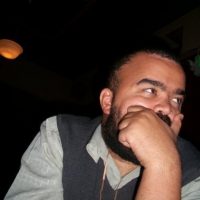 Robert Lashley is a writer and activist. He was a 2016 Jack Straw Fellow, Artist Trust Fellow, and a nominee for a Stranger Genius Award. He has had work published in The Seattle Review of Books, NAILED, Poetry Northwest, McSweeney's, and The Cascadia Review. His poetry was also featured in such anthologies as Many Trails to The Summit, Foot Bridge Above the Falls, Get Lit, Make It True, and It Was Written. His previous books include The Homeboy Songs (Small Doggies Press, 2014), and Up South (Small Doggies Press, 2017). In 2019, The Homeboy Songs was named by Entropy Magazine as one of the 25 most essential books to come out of the Seattle area.
---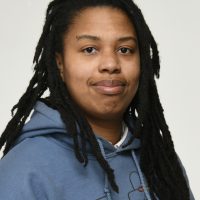 Maisha Banks Manson is a Queer, gender non-conforming, Black identified artist, activist, teacher and writer. They have devoted their personal journey to self healing through reclamation of personal history, knowledge and creating spaces for healing of others.
---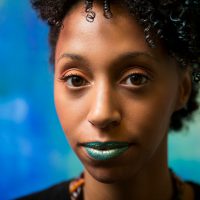 Natasha Marin is a conceptual artist whose people-centered projects have circled the globe since 2012 and have been recognized and acknowledged by Art Forum, the New York Times, the Washington Post, the LA Times, NBC, Al Jazeera, Vice, PBS and others. In 2018, the City of Seattle and King County have backed BLACK IMAGINATION, a series of conceptual exhibitions amplifying, centering, and holding sacred a diverse sample of voices including LGBTQIA+ black youth, incarcerated black women, black folks with disabilities, unsheltered black folks, and black children. Her viral web-based project, Reparations, engaged a quarter of a million people worldwide in the practice of "leveraging privilege," and earned Marin, a mother of two, death threats by the dozens. As a busy anti-racism consultant and community builder, Natasha was listed as one of 30 women who "Run This City" by Seattle Met magazine in 2018.
---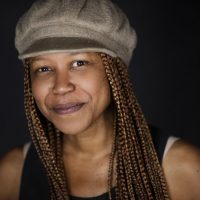 Singer-songwriter J.R. Rhodes believes that music heals and that love is real. From her first open-mic performances at the O.K. Hotel, Seattle, to her latest album I Am, these beliefs in the transformative power of song are distilled into gems of quiet intensity that traverse blues, jazz, folk and rock. Rhodes earned her B.A. in music composition from Wesleyan University, Middletown, CT. Jazz artists Bill Lowe and Anthony Braxton were teachers who encouraged her to explore and push beyond any self-imposed boundaries. These lessons have allowed her to continually grow and evolve her music. Her full-length albums include I Am (2017), Elixir (2011), Afriqueen Stare (2003), and Songs of Angels (1999). Additional works that demonstrate Rhodes' range are Lullabies (2013), a performance of traditional spirituals, On the Boards, Seattle; as well as 2 Old Chicks (2005), a 50-piece orchestral film score, created in collaboration with Doris Bartha and Steve Brush. She's currently in writing mode exploring African rhythms and spirituals.