Book Launch Party for Kate Lebo's A COMMONPLACE BOOK OF PIE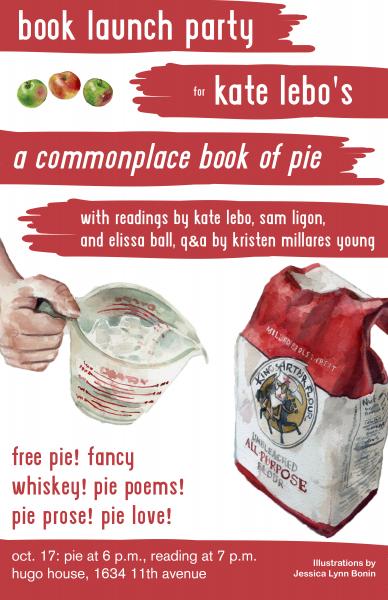 There will be pie and there will be Kate Lebo, and there will be a celebration and reading for Kate's chapbook, A Commonplace Book of Pie. We'll start with pie at 6 p.m., then, at 7, fiction writer Sam Ligon and poet Elissa Ball will read their own pie writing, followed by Kate, who will read from Book of Pie. Fiction writer Kristen Millares Young will host and facilitate a brief Q&A with Kate.
About A Commonplace Book of Pie
"If you wish to make an apple pie from scratch, you must first invent the universe."—Carl Sagan
Poet and baker Kate Lebo takes her cue from Carl Sagan's quote to reinterpret everything we thought we knew about pie. Lebo calls the book "a collection of facts, both real and imagined, about pie." It includes time-proven recipes, an eclectic mix of prose poems, a pie horoscope, and ephemera. Lebo explores the tension between the container and the contained while also busting clichés and creating new myths around strawberry rhubarb, vanilla cream, mincemeat, and many other pies. A Commonplace Book of Pie expands on Lebo's successful chapbook of the same name that has two thousand copies in circulation. The book includes two dozen watercolors and illustrations by artist Jessica Lynn Bonin that reinterpret pie and baking in a contemporary, feminist context.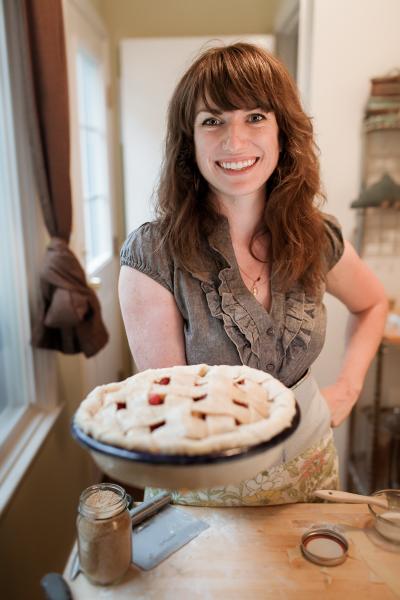 About Kate Lebo
Kate Lebo makes poems and pies—often at the same time—in Seattle, Washington. Her writing has appeared in Best New Poets, AGNI, and Poetry Northwest, among other journals, and she's the recipient of a Nelson Bentley Fellowship, a grant from 4Culture, and numerous writing residencies. After earning her MFA from the University of Washington in June 2012, she opened Pie School, her cliché-busting pastry academy.
About Jessica Lynn Bonin
Jessica Lynn Bonin is a painter and illustrator interested in Americana—the artifacts and images of our culture—and how that culture confines and defines us. She lives and works in a former hardware store and lumberyard in Edison, Washington.
About Kristen Millares Young
Kristen Millares Young is a prize-winning investigative reporter whose work has been featured by The New York Times, KUOW 94.9-FM, the Seattle Post-Intelligencer, The Miami Herald and TIME Magazine. Kristen was the researcher for the NYT 2013 Pulitzer Prize-winning story "Snow Fall: The Avalanche at Tunnel Creek," which also won a Peabody. Hailed by The Stranger as one of the "fresh new faces in Seattle fiction," she is writing her first novel. Kristen is a graduate of Harvard University and the Master of Fine Arts program at the University of Washington, where she studied and taught creative writing. She is also co-founder of InvestigateWest, a nonprofit journalism center in the northwest.
About Elissa Ball
Elissa Ball is a writer, performer, and feminist from Yakima, Washington. In 2012 Blue Begonia Press published The Punks Are Writing Love Songs, her debut collection of poems. She currently lives in Seattle. Since 2002 Elissa has been performing poetry on stages, at galleries, in bars, and at house shows. She graduated from Fairhaven College in 2006 with an interdisciplinary concentration titled "Voice: Writing, Literature, and Cultural Diversity." Her poems have appeared in Rivet, Hoarse, and City Arts.
About Sam Ligon
Samuel Ligon is the author of Drift and Swerve, a collection of stories, and Safe in Heaven Dead, a novel. His stories have appeared in The Quarterly, Alaska Quarterly Review, New England Review, Gulf Coast, and elsewhere. He teaches at Eastern Washington University, and is the editor of Willow Springs.