Book Party for Deborah Woodard's BORROWED TALES
A Solstice Eve Book Launch Party and Cover Night for Deborah Woodard's second collection of poetry, BORROWED TALES (Stockport Flats). Joining Deborah to read from their own work–and, in some cases, to cover poems from BORROWED TALES–are Elizabeth Austen, Rebecca Brown, Don Mee Choi, Elizabeth Colen, Soyon Im, Emily Johnston, Arlene Kim, Gregory Laynor, Brian McGuigan, Jeanne Morel, Julene Weaver, Carolyne Wright, Corrina Wycoff, and Maged Zaher.
The event is free, refreshments will be provided, and the bar will be open.
Connect with the event on Facebook!
In BORROWED TALES, personae congregate to live out their lives: Hamlet and Ophelia join the McGuffey Reader's droll schoolchildren to stand beside Junius, a deaf-mute black man from the early 1900s. When they entwine with Vince, a truculent middle schooler in south L.A, and Elaine, a returned Peace Corps Volunteer weighing in from Azerbaijan, their pasts seed a tangible present. Their lives, intractably immersed in history, release chance possibilities buried in every tale. Poems burst forth like entangled weeds in a camellia bush.
"Deborah Woodard's BORROWED TALES are novelistic, negotiating numerous twists and turns that are inventive and believable, playful and magical, but always rueful. Every tale here is earned. Poetry and prose converge, unearthing a voice at work that challenges the reader. BORROWED TALES is unique, personal, and luminous."–Yusef Komunyakaa
"The collection is a remarkable ride." –Stacey Levine
About Deborah Woodard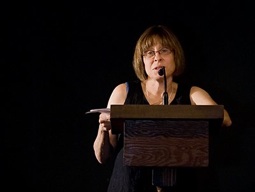 Deborah Woodard's first full-length poetry collection is PLATO'S BAD HORSE (Bear Star Press, 2006). She is the author of three chapbooks, including HUNTER MNEMONICS (hemel press, 2008), which was illustrated by artist Heide Hinrichs who also designed the cover for BORROWED TALES. Deborah's translation from the Italian of Amelia Rosselli, THE DRAGONFLY: A SELECTION OF POEMS 1953-1981, was published by Chelsea Editions (2009). She teaches hybrid creative writing and literature classes at Richard Hugo House.