Brief Encounters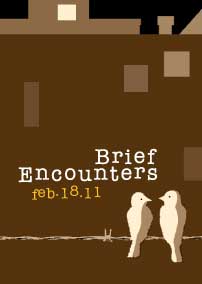 Every day strangers cross our paths—at a coffee shop, on the street, in a supermarket checkout line or a crowded airport. Most times we barely notice each other at all—a glance, a nod, maybe a smile before we pass on and out of one another's consciousness forever. But sometimes a chance encounter becomes something more: Romeo spots Juliet at a masked ball and tragedy ensues; Proust encounters a baked good and triggers a literary masterpiece; Rosa Parks climbs on board James Blake's bus one winter day in Montgomery, Alabama, and race relations in the United States will never be the same. So what are the encounters, however brief, that have left a lasting impression on you?
Dubbed "Hugo House: The Musical," Brief Encounters features musicians Jason Dodson of The Maldives, Laura Love and Macklemore, joined by novelist Matthew Simmons, premiering new work as part of the Hugo Literary Series on February 18, 2011, 7:30 p.m. in Hugo House's theater. Hannah Hynes-Mumford, winner of the 2011 Youth New Works Competition, also reads.
Get your tickets today! Tickets for Brief Encounters may be purchased online here, by calling us at (206) 322-7030 or dropping by Hugo House during our normal business hours.
More info about the Hugo Literary Series here.
About the Musicians and the Writer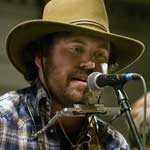 Jason Dodson is a singer-songwriter and frontman for the Maldives, an American roots octet that has been called "the hardest working band in Seattle." His music has been compared to that of Neil Young, the Band and Bonnie "Prince" Billy, and featured at SXSW, Bumbershoot, No Depression Festival, CMJ and the Tractor Tavern. Though he was born in Virginia and has lived all over the United States, Seattle is the only place he calls home (especially Ballard). He's recording a follow up to "Listen to the Thunder," the Maldives' sophomore release on Mt. Fuji Records, in fall, 2010. He loves sushi, potato vodka and anything written by James Crumley.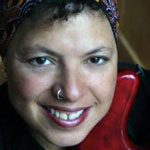 Laura Love is a folk singer/songwriter who has released 11 albums including "NeGrass" and "Welcome to Pagan Place," which features the controversial song, "I Want You Gone," about former President George W. Bush. She has toured nationally and internationally and has worked with award-winning musicians and producers, such as Joe Chicarelli, Jeff Autry and Orville Johnson. In addition to her musical accomplishments, Love is the author of the memoir, "You Ain't Got No Easter Clothes," published by Hyperion Books in 2004.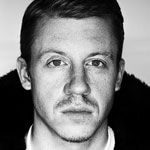 Macklemore emerged on the Seattle music scene in 2005 with one of the Pacific Northwest's classic hip hop records, "The Language of My World." Recently, he teamed up with producer and fellow Seattleite Ryan Lewis to release "The Vs. EP," which utilizes samples from well-known rock songs as a backdrop for Macklemore's tales of addiction, family, history and love. Macklemore and Lewis are currently at work on a full-length record. For more information, visit Macklemore's blog, bengalyucky.com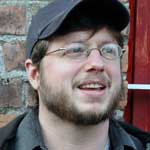 Matthew Simmons is the author of the novella, "A Jello Horse" (Publishing Genius Press, 2009); a chapbook, "The Moon Tonight Feels My Revenge"; and story collection, "Happy Rock," both forthcoming from Keyhole Press in 2010 and 2011 respectively. He is the interviews editor for the journal Hobart, a frequent contributor to HTML Giant and co-editor of the web journal On Earth As It Is. He lives in Seattle with his cat, Emmett. More information can be found at matthewjsimmons.com.
Presenting sponsor: Amazon.com