Brilliant Traces by Cindy Lou Johnson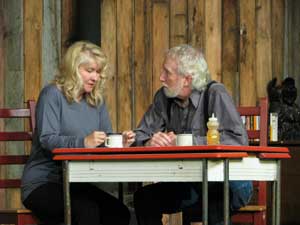 Former Seattle Police Chief Norm Stamper plays Henry Harry, a lonely, embittered hermit who lives in a converted barn deep in the remote woods of Alaska. Henry is awakened in the middle of the night by a stranger: Rosannah DeLuce (played by Melinda Milligan) who has fled an impending marriage and is, herself, emotionally wounded and distraught.
Together, Rosannah and Henry Harry, in the words of the playwright, "alternately repel and attract each other…. In the end, their very isolation proves to be the catalyst that allows them to break through the web of old grief and bitter feelings…and to reach out for the solace and sanctuary that only hard-won understanding, self-awareness and compassion for the plight of others can bestow."
This production played to SRO audiences on Orcas Island. Brilliant Traces is directed by Doug Bechtel.
The play runs October 21-24, October 29-30 and November 5-7. All performances begin at 8 p.m. Running time is 95 minutes.
Tickets are $15-18 and available online at orcasactors.com and at the door. For more info, visit orcasactors.com, or e-mail doug.bechtel@orcasactors.com