Bushwick Book Club: Original Music Inspired by Local Poetry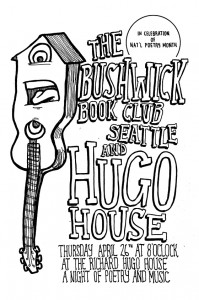 In celebration of National Poetry Month, The Bushwick Book Club Seattle and Richard Hugo House present a performance of original music inspired by local poetry, with the poets on hand to read and discuss their own inspirations along with the music created from their poetry.
Poets include: Ed Skoog, Evan Peterson, Bill Carty, Daemond Arrindell, Elaina Ellis, Jeannine Hall-Gailey, Amber Flame and Elissa Ball.
Musicians include: James Kelly Pitts, Scott Adams, Joy Mills, Karen Lindenberg, Shawnmarie Stanton, Susy Sundborg, Elijah Sussman and Wes Weddell.
Tickets are $8 in advance, $12 at the door and available here.