Bushwick Book Club: Tara Westover's Educated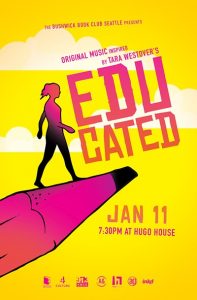 Original music inspired by Tara Westover's Educated.
Tara Westover's riveting, bestselling memoir of discovery  and independence took the entire world by storm—now, it becomes a well of inspiration for artists in a night of original music.
"This story, remarkable as it is, might be merely another entry in the subgenre of extreme American life, were it not for the uncommon perceptiveness of the person telling it. Westover examines her childhood with unsparing clarity, and, more startlingly, with curiosity and love." – The New Yorker
Tickets: $10
---
The Bushwick Book Club Seattle announces its tenth season presenting concerts that feature original music inspired by literature. Each event showcases a lineup of local, professional musicians and artists each offering a fresh response to that evening's source text along with extras like an audience quiz, short film, or scholarly introduction. The Bushwick Book Club Seattle and STYLE: Songwriting Through Youth Literature Education are the twin arms of Bushwick Northwest, a federal 501(c)(3) non-profit arts organization.