Bushwick Book Club: Zadie Smith's White Teeth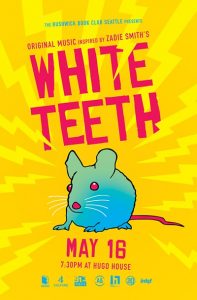 Original Music inspired by Zadie Smith's White Teeth
Religious zealots, oddball scientists, awkward teenagers, experimental mice and (maybe) the end of the world? Zadie Smith arrived on the literary scene by combining these ingredients into a phenomenal story of history, family and change.
"Frisky and irreverent…Smith's real talent emerges not just in her voice but in her ear, which enables her to inhabit characters of different generations, races and mind-sets." – The New York Times
Tickets: $10
---
The Bushwick Book Club Seattle announces its tenth season presenting concerts that feature original music inspired by literature. Each event showcases a lineup of local, professional musicians and artists each offering a fresh response to that evening's source text along with extras like an audience quiz, short film, or scholarly introduction. The Bushwick Book Club Seattle and STYLE: Songwriting Through Youth Literature Education are the twin arms of Bushwick Northwest, a federal 501(c)(3) non-profit arts organization.