Hugo Literary Series: The Paper Chase — Dorothy Allison, Stephen Elliott, Kirsten Lunstrum, and Levi Fuller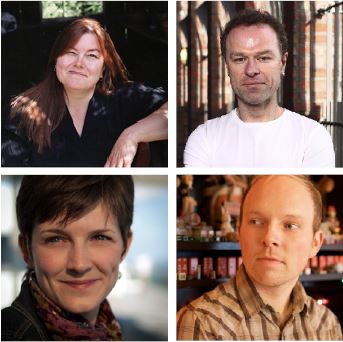 Three writers — Lambda Literary Award-winner Dorothy Allison, TheRumpus.net founder Stephen Elliott, and award-winning fiction writer Kirsten Lunstrum — and one musician, Levi Fuller, will write on the theme "The Paper Chase."
Connect to the event on Facebook
PRESS
The Stranger Suggests
Seattle Magazine
ABOUT THE THEME
Many Americans believe in the Horatio Alger myth, as if all it takes is hard work, determination, and courage to be the next Bill Gates. In fiction, a little elbow grease can make billions, or at least middle class respectability, but in real life, most of us fall somewhere between making do and ditch-digger, no matter our luck and pluck. Was George Carlin right when he said, "It's called the American Dream because you have to be asleep to believe it"? Or is our country's bootstraps ethos the reason why we rise and shine? Can we ever stop trying to keep up with the Kardashians and just be happy with what we have, whether we're moving on up or not?
ABOUT THE WRITERS
Dorothy Allison is the author of the best-selling and award-winning novels Bastard Out of Carolina and Cavedweller. Carolina was a finalist for the National Book Award and the ALA Award for Lesbian and Gay Writing and made into an award-winning film. Cavedweller was adapted for the stage and was a New York Times Notable Book of the Year. A new novel, She Who, is forthcoming. Awarded the 2007 Robert Penn Warren Award for Fiction, Allison is a member of the board of the Fellowship of Southern Writers.
Stephen Elliott is the director of the movie About Cherry. In 2013 he will direct an adaptation of his novel Happy Baby. He is the the author of seven books including The Adderall Diaries and the novel Happy Baby. His writing has been featured in Esquire, The New York Times, The Believer, GQ, Best American Non-Required Reading 2005 and 2007, Best American Erotica, and Best Sex Writing 2006. He is also the founding editor of the popular online literary magazine The Rumpus.
Kirsten Sundberg Lunstrum is the author of two collections of short fiction, This Life She's Chosen and Swimming with Strangers. Her writing has appeared in a number of journals, including One Story, The American Scholar, and Freight Stories, and she has been the recipient of two Pushcart Prize nominations, a PEN/O. Henry Prize, and fellowships from the Sewanee Writers Conference and the MacDowell Colony. Kirsten has taught writing at colleges across the United States, most recently as a member of the creative-writing faculty at Purchase College, SUNY. She now lives in the Seattle area with her family and is completing a novel. She is online at Kirstenlunstrum.net.
Levi Fuller makes and compiles music in Seattle. He has released three solo albums and many volumes of the compilation series Ball of Wax Audio Quarterly and written several songs about different books as a member of the Bushwick Book Club Seattle. His band Levi Fuller & the Library (with Jonathan Wooster on bass and Christopher Williams on drums) released Social Music, an EP of covers, this fall and is now preparing a full-length album of original music.