Literary Trivia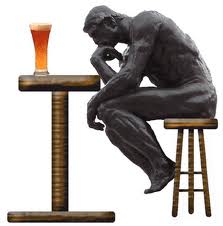 For brainy Seattleites, pub trivia has become a combat sport. Hugo House has stepped into the ring with our own spin on the popular game: a night of literary trivia, led by quizmasters Steve Barker and Elissa Washuta.
The quizmasters will ask four rounds of questions about books, authors and other literary factoids. The top-scoring team wins a prize pack of books and other goodies.
If you've been dying to show off your book-smarts in front of people who actually care, here's your chance.
This event is FREE, and the bar will be open beginning at 6:30 p.m. serving $2 Rainiers, select wells for $4 and more.
PLEASE NOTE: Teams are limited to five people.
About the Quizmasters
Steve Barker received his BA in English from Chapman University in 2003. Since then he hasn't really put it to much use. Never once has his knowledge of "The Canterbury Tales" been beneficial in a job interview. He's the stage manager and co-founder of "Cheap Wine & Poetry" and "Cheap Beer & Prose". In 2009 he co-edited the chapbook "Hill Poems: A Collection of Capitol Hill Poetry." Once a week he hosts the podcast Ordinary Madness, which can be heard at ordinarymadness.org. He still highlights and makes notes in the margins when he reads.
Elissa Washuta's recently-completed book, "My Body Is a Book of Rules," is a memoir built on the bones of psych-med near disasters, fencing injuries, sexual hindsights and modern Native American ethnic confusion. She graduated from the University of Washington's MFA program in 2009 and now works as an adviser and adjunct instructor for the Department of American Indian Studies at the University of Washington, where she tries to teach college students about books without ever using the words "school of thought." She was born in New Jersey.