Poetry Across the Nations: An Indigenous Reading
Fred Wildlife Refuge (128 Belmont Ave East) | Doors open at 6:30 pm | free
Presented in partnership with Poetry Foundation
Hugo House is pleased to partner with Poetry Foundation for Poetry Across the Nations, a series in its pilot year that aims to make intercultural and intertribal interactions more possible.
This community reading showcases a diversity of local and national Native poets. Emceed by Natalie Diaz, the event will include readings from Celeste Adame, Laura Da', Natalie Diaz, Jennifer Foerster, Casandra Lopez, Sara Ortiz, and Cedar Sigo. Books will be for sale from Open Books: A Poem Emporium.
Free poetry workshops for Native writers are also offered in conjunction with the event:
Our Lives, A List: A Poetry Workshop for the Suquamish Community with Cedar Sigo
Wednesday, December 6, 5:00–7:30 pm
The Suquamish Museum (6861 NE South Street)
Sublime Locations: The Emotionality and Sensuality of "Place"
A Poetry Workshop for Indigenous Writers with Celeste Adame and Natalie Diaz
Friday, December 8, 5:00–8:00 pm
Hugo House (1021 Columbia Street)
Register >
---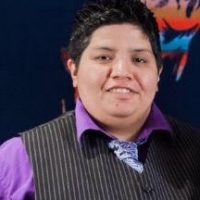 Celeste Adame, Muckleshoot, holds a Master of Fine Arts in poetry from Institute of American Indian Arts in Santa Fe, New Mexico. Her thesis, Lovers Landscape, explores gender identity, sexuality, love, basketball, landscapes of both Washington and New Mexico. She has been published in Yellow Medicine Review, As/Us: A Journal for Women of the World, hinchas de poesia, Connotation Press, and Santa Fe Literary Review. She was also one of the poetry editors for the first two editions of Mud City, the online literary review of the Institute of American Indian Arts' Low Residency MFA program.
---
Laura Da' is a poet and teacher. A lifetime resident of the Pacific Northwest, Da' studied creative writing at the University of Washington and the Institute of American Indian Arts. She is Eastern Shawnee. Her first book, Tributaries, won a 2016 American Book Award. In 2015, Da' was a Made at Hugo House Fellow and a Jack Straw Fellow. Da' lives near Seattle with her husband and son.
---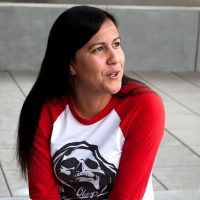 Natalie Diaz was born and raised in the Fort Mojave Indian Village in Needles, California, on the banks of the Colorado River. She is Mojave and an enrolled member of the Gila River Indian Tribe. Her first poetry collection, When My Brother Was an Aztec, was published by Copper Canyon Press. She is a Lannan Literary Fellow and a Native Arts Council Foundation Artist Fellow. She was awarded a Bread Loaf Fellowship, the Holmes National Poetry Prize, a Hodder Fellowship, and a PEN/Civitella Ranieri Foundation Residency, as well as being awarded a US Artists Ford Fellowship. Diaz teaches at the Arizona State University Creative Writing MFA program. She splits her time between the east coast and Mohave Valley, Arizona, where she works to revitalize the Mojave language.
---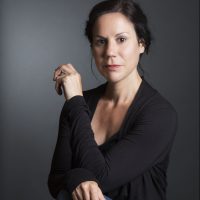 Jennifer Elise Foerster is an alumna of the Institute of American Indian Arts (IAIA), received her MFA from the Vermont College of the Fine Arts, and is completing a PhD at the University of Denver. She is the recipient of a 2017 NEA Creative Writing Fellowship, a Lannan Foundation Writing Residency Fellowship, and was a Wallace Stegner Fellow in Poetry at Stanford. A member of the Muscogee (Creek) Nation of Oklahoma, she is the author of two books of poetry, Leaving Tulsa and Bright Raft in the Afterweather. She co-directs an arts mentorship program for Mvskoke youth and teaches at the IAIA MFA Low-Residency Program.
---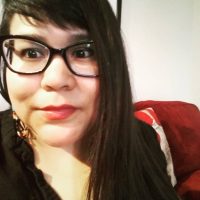 Casandra Lopez is a California Indian (Cahuilla/Tongva/Luiseño) and Chicana writer who has received support from from CantoMundo, Bread Loaf and Jackstraw. She's been selected for residencies with School of Advanced Research and Hedgebrook. Her chapbook, Where Bullet Breaks, was published by the Sequoyah National Research Center and her second chapbook, After Bullet, is forthcoming from Paper Nautilus. She's a founding editor of As Us: A Space For Writers Of The World and teaches at Northwest Indian College.
---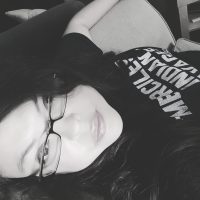 Sara Marie Ortiz, Pueblo of Acoma, graduated from the Institute of American Indian Arts and Antioch University Los Angeles' MFA program with a focus in creative nonfiction. She has formally studied law, Indigenous education, global self-determination in Indigenous communities, radio, theater, and film. She has been presenting her creative work nationally and internationally for over fifteen years and has published work in the Kenyon Review, Ploughshares, Sentence, and Fulcrum. She is the author of Red Milk (2013) and is currently at work on her second collection, Savage: A Love Story. She lives in Burien, Washington.
---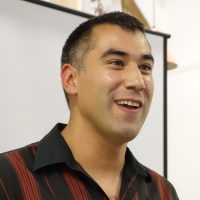 Cedar Sigo was raised on the Suquamish Reservation in the Pacific Northwest and studied at The Jack Kerouac School of Disembodied Poetics at the Naropa Institute. He is the editor of There You Are: Interviews, Journals, and Ephemera, on Joanne Kyger, and author of eight books and pamphlets of poetry, including Royals (Wave Books, 2017), Language Arts (Wave Books, 2014), Stranger in Town (City Lights, 2010), Expensive Magic (House Press, 2008), and two editions of Selected Writings (Ugly Duckling Presse, 2003 and 2005).