Quarantine Write-In with Amber Flame
Writing can help us process our feelings about the unprecedented events unfolding around us. But it can be hard to find the focus and the motivation when we're stressed and overwhelmed. To help get those words flowing, join us at this free weekly write-in via Zoom, where you'll get writing prompts, time to write, and the opportunity to connect with other writers. Whether you want to journal, blog, or produce other writing during this uncertain time, this event will jumpstart your creativity. We'll spend half an hour writing, and half an hour sharing our writing, and discussing issues related to writing during the pandemic. There will be a 15 min optional Q & A at the end of the session.
RSVP at the "Tickets" link for as many sessions as you'd like to attend. You can sign up for them one by one each week, or all at once.
---
About the Facilitator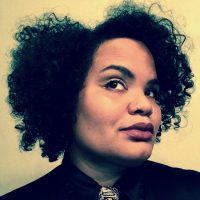 Amber Flame is a writer, composer, and performer whose work has garnered residencies with Hedgebrook, The Watering Hole, Vermont Studio Center, and YEFE NOF. Flame's original work has been published in diverse arenas, including Def Jam Poetry, Winter Tangerine, The Dialogist, Split This Rock, Black Heart Magazine, Sundress Publications, FreezeRay, Redivider Journal, and more. A Jack Straw writer and recipient of the CityArtist grant from Seattle's Office of Arts and Cultural Affairs, Amber Flame's first full-length poetry collection, Ordinary Cruelty, was recently published through Write Bloody Press. Amber Flame is a queer Black single mama just one magic trick away from growing her unicorn horn.