Rather: The Motion Picture Soundtrack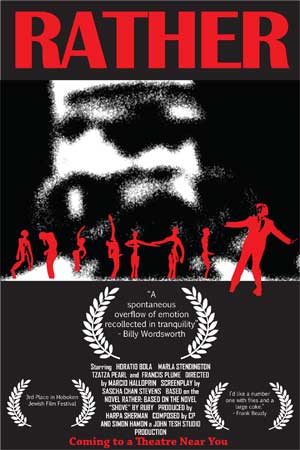 When experiencing movies, the motion picture itself is often the main attraction. In a novel approach, "Rather: The Motion Picture Soundtrack" brings to the fore the music, promotional materials and stories of the people involved in making a nonexistent movie. By directing the focus to the sideline components of the film and neglecting to create a plot, "Rather: The Motion Picture Soundtrack" allows participants to experience the hype that surrounds the production of a motion picture without any attention to the film's actual content. It will include a full soundtrack, nine different promotional posters, a zine of scandalous information about the film's creators and more. It will be left up to you, the audience, to determine the sum of all these parts.
Artists featured in this awe-inspiring non-production will be both local and international prodigies: Jon Horn, Shelly Mar, Owen Curtsiner, Bryan Edenfield, Gabriela Ochoa, Arthur van der Harten, Caitlin Heermans, Karly Williams and, your faithful orchestrator, Emily van der Harten.
Come for the show and stay for the free wine and reasonably priced memorabilia to commemorate the magic of cinema.
The event is free and open to the public.
About the Artist
Emily van der Harten is a musician gone awry. Rigorously trained as a child on the flute, she has since wandered from her roots in pursuit of musical anarchy. She is a Seattle transplant from the neon vortex known to most as Las Vegas, Nevada. She received a BA in English Literature and Swedish Language from the University of Washington in 2009 and spends her time entrenched in the arts. As an intern with ZAPP, Emily has been schooled in the "do-it-yourself" philosophy of zines so thoroughly that she babbles about it to anyone with ears, especially at the late-night neighborhood taco stand. Her favorite zines are about alien abductions and cults.