Sister Spit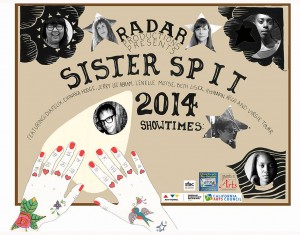 NOTICE: Tickets will be $20 at the door.
FEATURING SEATTLEITES SARAH GALVIN AND IDA ACTON
SISTER SPIT is setting off on their 2014 spring fling, spreading queer and feminist literature and performance all across North America! The tradition of taking a vanload of edgy, intellectual provocateurs on the road, begun in 1997, continues with a lineup featuring brand new voices, audience favorites and the latest publications from Sister Spit Books, an imprint of iconic City Lights Books. The 2014 tour will be hosted by Ali Liebegott, whose hilarious and strange improvisations on the mic are legend. Along for the ride in the 2014 van are: debut novelist Dia Felix, Beth Lisick, slam poet and award-winning playwright Chinaka Hodge, powerhouse fat activist Virgie Tovar, award-winning playwright and poet Lenelle Moise, and Sister Spit favorite Rhiannon Argo.
The legendary, raucous, rowdy performance gang, Sister Spit, will hit Seattle with a pack of multimedia, queer-centric brilliance, a must-see multimedia explosion of taste-makers, novelists, luminaries, playwrights, performance artists, poets and drag queens.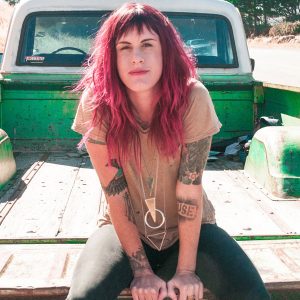 Rhiannon Argo is a writer and schooled librarian. She is the author of two works of literary fiction: the Lambda award–winning novel, The Creamsickle, and the YA-ish novel, Girls I've Run Away With. Her stories and novels have inspired both short films and German translations. Argo has been both a Lambda Literary and Radar Lab Fellow. She is the founder Moonshine Press, and co-founder of the Que(e)rySF.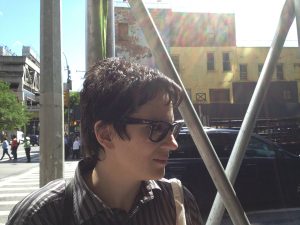 Dia Felix is a writer and filmmaker. She has written for blogs including City Lights and the Museum of Arts and Design and performed her work at many venues including Segue Series and Dixon Place. She is founder and editor of "Personality Press." Her novel "Nochita" will be published through City Lights/Sister Spit in early 2014. She is an award-winning digital media producer for museums (Exploratorium, Museum of Arts and Design) and teaches and mentors teens in experimental documentary filmmaking.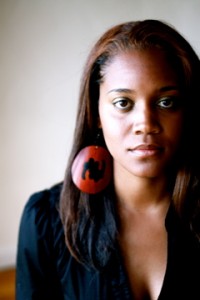 Chinaka Hodge is a poet, educator playwright and screenwriter. When not educating or writing for page, Chinaka rocks mics as a founding member of a collaborative Hip Hop ensemble, The Getback. Her poems, editorials, interviews and prose have been featured in Newsweek, San Francisco Magazine, Believer Magazine, PBS, NPR, CNN, C-Span, and in two seasons of HBO's Def Poetry.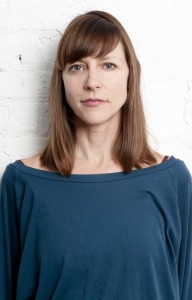 Beth Lisick is a performer and the author of four books, including the NY Times bestseller Everybody Into the Pool. Her latest book, Yokohama Threeway, is forthcoming from Sister Spit press in fall 2013. She is also the co-founder of San Francisco's Porchlight Storytelling Series.

Lenelle Moïse creates jazz-infused, hip-hop bred, politicized performances about Haitian-American identity, creative resistance and the intersection of race, class, gender, sexuality, memory and spirit. Moïse is a current Huntington Theatre Company Playwriting Fellow. Her poetry and prose have been published in several anthologies including Word Warriors: 35 Women Leaders in the Spoken Word Revolution. Her debut manuscript of poems, Haiti Glass, is forthcoming from SisterSpit/City Lights. http://www.lenellemoise.com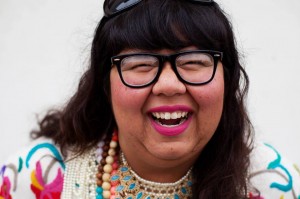 Virgie Tovar, MA is an author, fat activist and one of the nation's leading experts and lecturers on fat discrimination and body image. She is the editor of Hot & Heavy: Fierce Fat Girls on Life, Love and Fashion (Seal Press, November 2012). Virgie has been featured by MTV, the San Francisco Chronicle, NPR, Huffington Post, Bust Magazine, Jezebel, 7×7 Magazine, XOJane, and SF Weekly as well as on Women's Entertainment Television and The Ricki Lake Show. Find her online at www.virgietovar.com.