Spotlight Nonfiction: Wild Ride Home by Christine Hemp
Port Townsend poet Christine Hemp reads from her debut memoir, Wild Ride Home (Arcade, 2020), a stirring account of loss and reclamation and the training of a horse named Buddy.
---
About Wild Ride Home
"How is it possible to read a book with so much death in it and so much joy? Here is a family of people who look life straight in the eyes, a horse who runs circles around sorrow so that sorrow itself laughs out loud, and a writer who is such good company I never wanted the book to end."

—Marie Howe, New York State Poet Laureate 2012—2014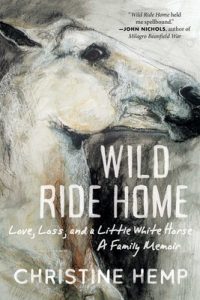 Christine Hemp's debut work of nonfiction, Wild Ride Home, is a brilliant memoir, looping themes of finding love and losing love, of going away and coming home, of Alzheimer's wretched course, of cancer, of lost pregnancies, of fly fishing and horsemanship, of second chances, and, ultimately, of the triumph of love and family—all told within the framework of the training of a little white horse named Buddy.
Wild Ride Home invites the reader into the close Hemp family, who believe beauty and humor outshine the most devastating circumstances. Such optimism is challenged when the author suffers a series of blows: a dangerous fiancé, her mother's dementia, unexpected death and illness. Buddy, a feisty, unforgettable little Arabian horse with his own history to overcome, offers her a chance to look back on her own life and learn to trust again, not only others, but more importantly, herself. Hemp skillfully guides us through a memoir that is, despite devastating loss, above all, an ode to joy.
---
About the Author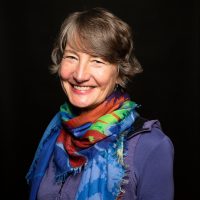 Christine Hemp has aired her essays and poems on NPR's Morning Edition, and a poem of hers has traveled over a billion miles on a NASA mission to monitor the prenatal activity of stars. Her awards include a Washington State Artist Trust Fellowship for Literature, an Iowa Review Award for Nonfiction, and the Harvard University Extension Award for Teaching Writing. She is on the 2019–20 Humanities Washington Speakers Bureau with her talk "From Homer to #hashtags," which explores our changing language. Her memoir, Wild Ride Home, will be published in 2020. She lives in Port Townsend, Washington, with two horses, two cats, and one husband.