Two Poets from Detroit with Washington State Poet Laureate Kathleen Flenniken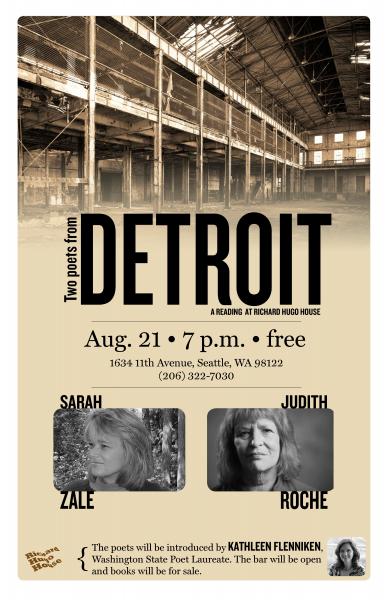 Two Motor City ex-pats–poets Judith Roche, and Sarah Zale–wax nostalgic over Detroit through blue-collar poems fueled by the city's gritty spirit, with introductions by Washington State Poet Laureate Kathleen Flenniken.
The reading is free. Books will be for sale, and the bar will be open.
Connect with the event on Facebook!
About the Authors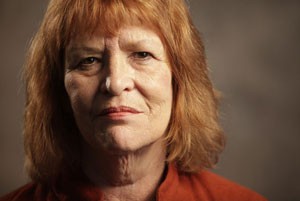 Judith Roche is the author of three poetry collections, most recently, Wisdom of the Body, Black Heron Press. and editor of First Fish, First People: Salmon Tales of the North Pacific Rim, both have been American Book Award recipients. She has poems installed in several Seattle area permanent public arts pieces. She was Distinguished Northwest Writer at Seattle University, is Literary Director Emeritus for One Reel, an arts producing agency, and a Fellow in the Black Earth Institute. Most recent publications have been in Manoa, Windfall, The Far Field, About Place. Forthcoming is another poetry collection, In Crepuscular Light, Black Heron Press.
Sarah Zale teaches writing and poetry at Shoreline Community College. The Art of Folding: Poems (2010) was inspired by travels to Israel and Palestine. Her recent collection, Sometimes You Do Things: Poems (Aquarius Press, Living Detroit Series) highlights the history of Detroit and celebrates its rebuilding. Naomi Shihab Nye chose September 24, 1930: The Last Hanging in Michigan as a finalist in the 2011 Split This Rock Poetry Contest. Sarah is founder and director of The Listening Tree Project, an academic program. Its mission is to promote a campus climate of equality, justice, and respect for all people, and facilitate student leadership development. Sarah lives in Port Townsend, WA.