UW Castalia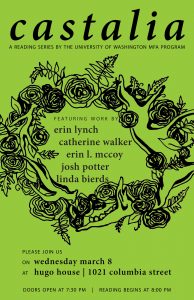 Castalia is a monthly reading series at Hugo House featuring graduate students, faculty, and alumni from the University of Washington MFA program. This evening features second-year poet Erin Lynch, second-year prose writer Catherine Walker, second-year prose writer Erin L. McCoy, alumnus Josh Potter, and faculty member Linda Bierds.
---
Erin L. McCoy is a student in the University of Washington MFA program in poetry; she is also pursuing her MA in Hispanic Studies at UW. Her poetry has been published or is forthcoming in such journals as Pleiades, DIAGRAM, The Tusculum Review, Far Off Places, and CURA. She is Public Relations Manager for Open Books, one of just four poetry-only bookstores in the nation. She was awarded the University of Washington's Grace Milliman Pollock Scholarship (2016-2017) and received the Oakley Hall III Memorial Scholarship to attend the Community of Writers in Squaw Valley, California, in the summer of 2016. In the past, she has been awarded a Fulbright Fellowship, an internship at Sarabande Books, and the University of Louisville Creative Writing Scholarship.
Catherine Walker is a current Creative Writing MFA student in Prose at the University of Washington. Catherine received two Bachelors of Arts, one in Creative Writing and the other in Art History, from the University of Arizona in 2014. Catherine has many publications on the Fairy Tale Review's online blog, Fairy Tale Files.
Erin Lynch lives in Seattle, where she is finishing up an MFA in poetry at University of Washington. Her work has appeared or is forthcoming in Gulf Coast, New England Review, and Cream City Review.
Josh Potter received his MFA from the University of Washington in 2015. His work has appeared in Shelf Awareness, The Stranger, and Driftwood Press, where he is a guest editor for their upcoming fall issue. He lives in Seattle, Washington.
Born in 1945, Linda Bierds was raised in Anchorage, Alaska, and attended the University of Washington, where she received her BA in 1969 and her MA in 1971. Bierds's many collections of poetry include Flights of the Harvest Mare (1985); Heart and Perimeter (1991); The Ghost Trio (1994), which was a Notable Book Selection by the American Library Association; The Seconds (2001); First Hand (2005); Flight: New and Selected Poems (2008); and Roget's Illusion (2013), which was a longlist nominee for the National Book Award. (qtd. from Academy of American Poets and Poetry Foundation).