Wage Slaves: the 78 Cents Edition
The things we do for 78 cents on the dollar: real-life and fictional tales from working women in a gender-skewed world. Featuring Sonya Lea, Michelle Peñaloza, Tele Aadsen, Storme Webber, and Jean Burnet. Michelle Goodman and Sierra Golden emcee. The event is free and presented in collaboration with Hedgebrook. In keeping with Wage Slaves tradition, free donuts will be served.
---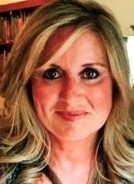 Sonya Lea's memoir, Wondering Who You Are, has won awards and garnered praise in a number of publications, including Oprah Magazine, People, NPR, and the BBC, which named it a "top ten book." Her essays have appeared in Salon, The Southern Review, Brevity, Guernica, Cold Mountain Review, The Prentice Hall College Reader, The Rumpus, and The Butter. Lea teaches at Hugo House, and she's leading a pilot project to teach writing to women veterans through the Red Badge Project. Her film, Every Beautiful Thing, is showing in festivals and receiving awards around the US, including recognition for Emerging Director and best score. Originally from Kentucky, she lives in Seattle. Visit her website.
---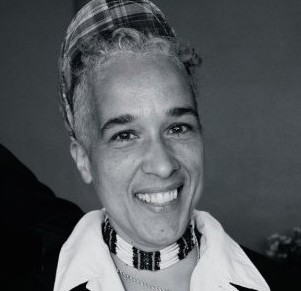 Storme Webber is a Two Spirit, Alutiiq/Black/Choctaw, internationally nurtured poet, playwright, educator, and interdisciplinary artist. She creates blues-influenced, socially engaged texts and images exploring identity, art activism, and the intersections of race, class, gender, sexuality, memory, and spirit. Her poetry collections include Diaspora, Blues Divine, and the forthcoming Noirish Lesbiana. Her solo theatre works include Buddy Rabbit, Noirish Lesbiana: A Night at the Sub Room, and Wild Tales of Renegade Halfbreed Bulldagger. She has been highlighted in numerous anthologies, documentaries, and international performance tours. Her work has been supported and awarded by Artist Trust, Hugo House, Jack Straw Foundation, City of Seattle, 4Culture, and Hedgebrook.
---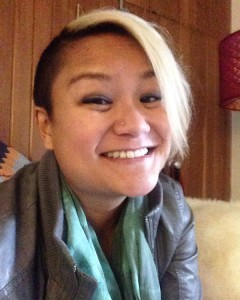 Michelle Peñaloza is the author of two chapbooks: landscape/heartbreak (Two Sylvias Press) and Last Night I Dreamt of Volcanoes (Organic Weapon Arts). Her poetry can be found in New England Review, TriQuarterly, Pleiades, The Collagist, and elsewhere. She is the recipient of fellowships and awards from Kundiman, 4Culture, and Hugo House, as well as scholarships from Vermont Studio Center and the Bread Loaf Writers' Conference, among others.
---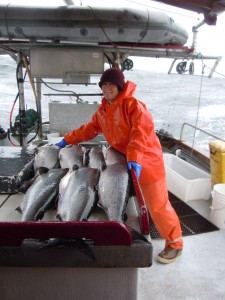 Tele Aadsen is a tree-hugging, tofu-eating commercial fisherman and writer. An Alaskan salmon troller since 1985 (when she sold her first fish for the price of an ice-cream cone), she and her partner Joel have run the F/V Nerka together for the past ten years, marketing their catch to restaurants throughout the country. Her work has appeared in Cirque, National Fisherman, and Alaska Dispatch News, and she performs annually with Oregon's FisherPoets Gathering. Her memoir, Hooked: A Season of Love, Sex, and Salmon, is forthcoming from Riverhead Books.
---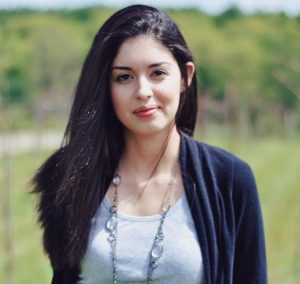 Jean Burnet earned her MFA at the University of Washington. Her work has appeared in the Los Angeles Review, Brevity, and Palaver, among others. She was a 2014-2015 Made at Hugo House fellow, and occasionally blogs about pop culture at Three Imaginary Girls.
---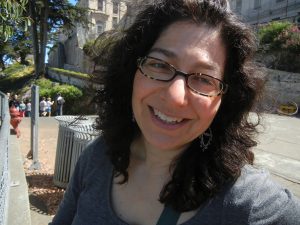 Michelle Goodman is the award-winning author of The Anti 9-to-5 Guide and My So-Called Freelance Life, both published by Seal Press. Her essays and journalism on careers, commerce, and creativity have appeared in dozens of publications, including the New York Times, Salon, Vice, Bust, Bitch, Bark, Seattle Times, Seattle magazine, and several anthologies. She's been awarded residencies by Hedgebrook and Whiteley Center. Before becoming a full-time freelance writer two decades ago, she played admin to an array of dazzlingly bad bosses.
---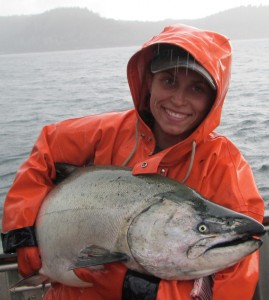 Sierra Golden received her MFA in poetry from North Carolina State University. Winner of the program's 2012 Academy of American Poets Prize, Golden's work appears or is forthcoming in literary journals such as Prairie Schooner, Permafrost, and Ploughshares. She has also been awarded residencies by Hedgebrook, the Island Institute, and the Sitka Center for Art and Ecology. Although she calls Washington State home, Golden has spent many summers in Alaska, working as a commercial fisherman. She now works in communications.
---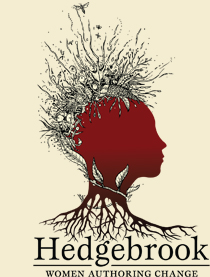 Event in collaboration with Hedgebrook, a global community of women writers and people who seek extraordinary books, poetry, plays, films, and music by women. A literary nonprofit, its mission is to support visionary women writers whose stories and ideas shape our culture now and for generations to come. Hedgebrook offers writing residencies, master classes, and salons at its retreat on Whidbey Island, and public programs that connect writers with readers and audiences around the world.