What I Saw by Jack McCarthy: Book Release and Party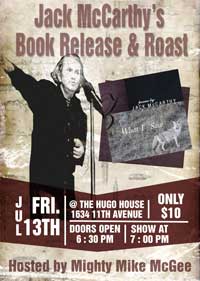 The word legend is thrown around poetry circles a lot, but here's the standard everyone's comparing to: Jack McCarthy had been writing poetry since the mid-60s when, in 1993, he took his daughter to the open mic at the Cantab Lounge in Cambridge, MA hoping he'd spark an interest. He did…his own.
Showered with awards in his hometown of Boston, as well as nationally (including being the 10th ranked individual poet at the 2000 National Poetry Slam), The Boston Globe said that "in the poetry world, he's a rock star." They're right.
Jack describes "What I Saw," only the second major collection of his work, as "the last collection." Asked what the theme of the work was, Jack said, "There are very few of my poems that still make me cry and…I was surprised to notice how many of these poems still get to me." Jack further described "What I Saw" as something like a record he bought in the 50s called "Songs I Love to Sing."
The magic of Jack's craft is that it's invisible. Simple language and funny anecdotes will wake you up the middle of the night when you realize the layers of meaning he packed into those simple words.
Along with the book release and performances by Jack and other members of the poetry community, friends and poets will come to share stories with Jack about their experiences with him over the years. Don't miss this chance to join the Seattle Poetry community in celebrating a true legend.
Hosted by Mighty Mike McGee, doors open at 6:30 and admission is $10.