Writers Under the Influence: Rebecca Brown on Kafka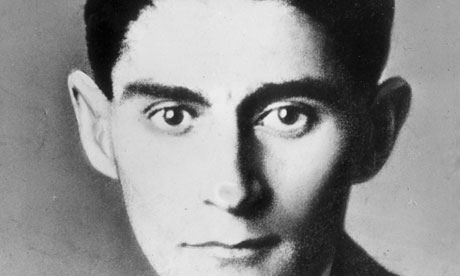 Writers have long been under the spell of Kafka's writing — his brevity, his simplicity, his treatment of the bizarre. Now, Rebecca Brown, Ryan Boudinot, and Eric McMillan will come together at Hugo House to honor Kafka's writing legacy by reading his work, presenting Kafka paraphernalia, and telling bad existential jokes. The event is free, and the bar will be open.
About the Readers
Rebecca Brown is the author of twelve books published in the US, abroad, and in translation including American Romances, The Gifts of the Body, and The Dogs. A frequent collaborator, she has written for theater, dance opera, musicians and visual artists. Her art has appeared at the Frye, Hedreen and Simon Fraser Galleries. She has taught for 30 years in academic and community settings and is currently on faculty at Goddard College, Vermont and the MFA program at UW-Bothell.
Ryan Boudinot is the author of the novels Blueprints of the Afterlife and Misconception (a PEN USA Literary Award finalist) and the story collection The Littlest Hitler (a Publishers Weekly book of the year). His work has appeared in McSweeney's four times and in other journals and anthologies including Post Road, Hobart, Monkeybicycle and The Best American Nonrequired Reading. He was a writer-in-residence at Hugo House from 2009-2011 and teaches at Goddard College's Master of Fine Arts program.
Eric McMillan began writing after ten years of active duty as an Army officer. During that time, he served two combat tours in Iraq, the last as a Stryker rifle company commander out of Fort Lewis. In 2010, he obtained his MA from the University of Chicago, where he studied in the English department and in the Committee on Creative Writing with Dan Raeburn and the Vare Writer-in-Residence, James Fallows. Recently, Eric's personal essay, "This Father's War" was featured on TheAtlantic.com. He lives in Capitol Hill with his wife, Sarah, and their seven-month-old son, Jack.