Misty Mint Magazine is a fresh new literary journal run primarily by students from the Hugo House Young Writers Cohort (with some support from the Hugo House Youth Programs team!) and was founded with inspiring youth voices in mind.
As passionate young writers ourselves, we recognize the importance of providing a safe space for youth to express themselves, regardless of their experience, background, ethnicity, and/or identity. Through our words, we share unique perspectives in a world that needs to hear them.
We also acknowledge the weight of our histories and the power of our identities. By showcasing our incredible works of prose, poetry, and everything in between, we aim to amplify the voices of all writers who have been historically marginalized or silenced in the publishing world. So, to the young writers who have felt unheard in the past, this is your time to shine! Whether your pieces are pristine or still a bit rough around the edges, whether they're hopeful or despondent, whether they speak truth to our lived realities or envision worlds outside of our own, we encourage you to share your work with us!
As you look through the pages of Misty Mint Magazine, you'll see the many pasts, presents, and futures of these diverse young writers. By the time you turn over the last leaf of this journal, we hope you'll come away feeling empowered in this ever-changing world.
— Allison, Anthony, Josie, Olivia L., Olivia Z., and Sophia
Hugo House Young Writers Cohort 2022
Misty Mint Magazine Volumes
All Misty Mint Magazine volumes are available physically and digitally with a suggested donation of $10 per volume.
Make your Misty Mint donation here.
Digital Volumes
Click the images below to download a digital copy of Misty Mint Magazine.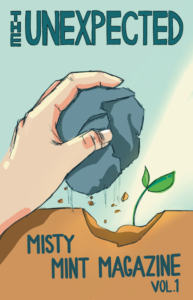 Physical Volumes
Physical copies of Misty Mint Magazine are available in limited quantities at Hugo House during classes or events. If you'd like to request a copy, please contact us youth@hugohouse.org.
Submit Your Work
Submissions are currently closed. Please check back here for information about our next submission window. Thank you for your interest!
Frequently Asked Questions