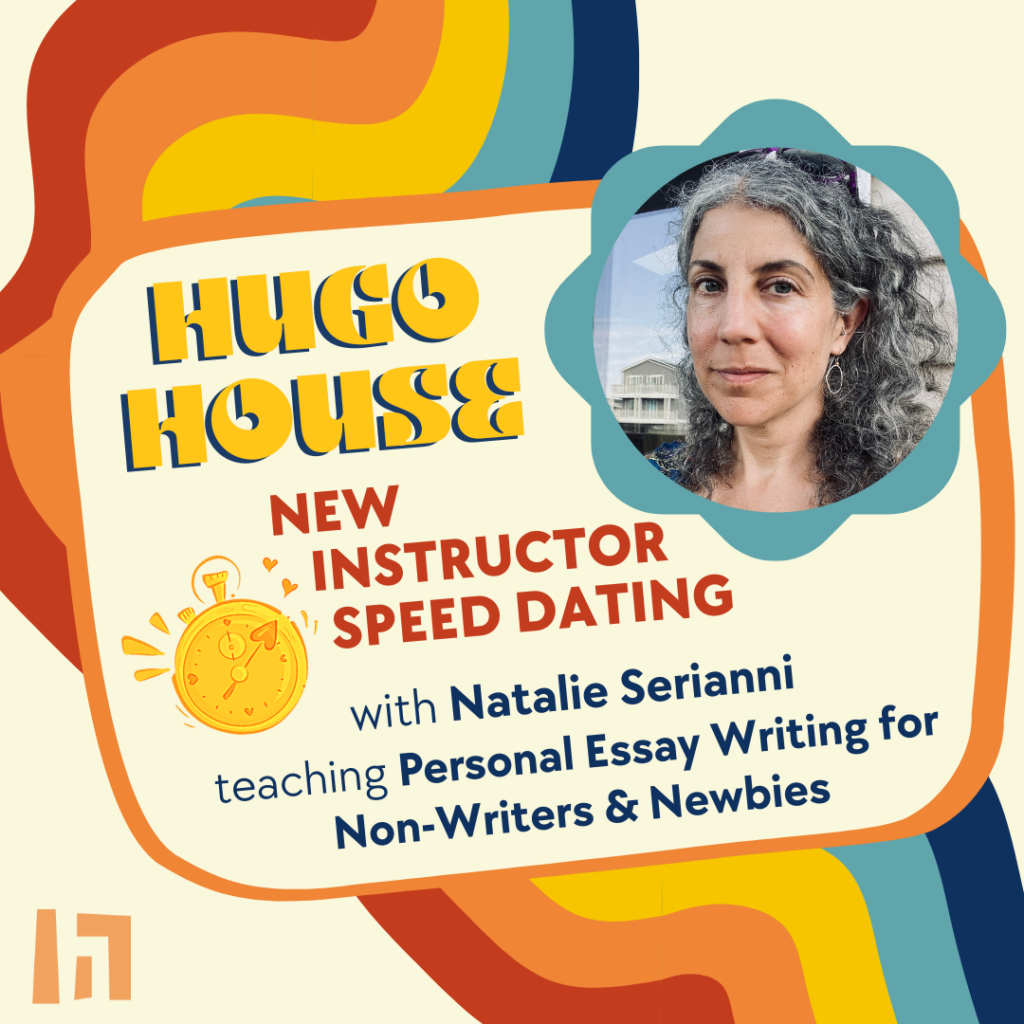 The sun is shining, the flowers are blooming, and the grills are a'grilling. With registration starting next week, summer has officially arrived at Hugo House. This quarter, we welcome new instructor Natalie Serianni, who will be teaching Personal Essay Writing for Non-Writers & Newbies, happening July 18-August 8.
Natalie Serianni is a Seattle-based writer and instructor with work at HuffPost, Insider, Motherwell, MSN/SheKnows, The Manifest-Station, Seattle's ParentMap, Today's Parent, and MuthaMagazine, among others. Her essay, "Subtle Shifts," was included in the 2021 anthology, The Pandemic Midlife Crisis: Gen X Women on the Brink. She writes about grief and parenting (sometimes together), and has taught college writing for over twenty years.
---

Q&A with Natalie
Why do you write?
There are many reasons, but mainly because it's how I learn. I write through my questions to find clarity. Writing allows me to process what's happening in the large (and small) worlds I inhabit. It plugs me in. It's when I feel most connected in my creativity, my art, my grief, and my life.
Do you have any writing rituals?
I don't have any set writing rituals but I usually walk the dog before I sit down to write. I also love hot, strong coffee and a quiet space. With pillows.
How do you know when an idea has legs?
It's usually the last thing I see before I fall asleep: the words of an essay, being typed, on a blank piece of paper in my head.
What is your favorite word in any language?
Exquisite.
Where do you find inspiration?
My kids are an endless source of inspiration. As is deeply listening to people's stories. And, being off screen and paying attention – to nature, to my family, at an event, seeing music, etc. When I can find beauty, I come away inspired.
---

Summer Registration Dates:
June 5: Scholarship Donation Day (Learn more.)
June 6: Member registration opens
June 13: General registration opens
Interested in teaching with Hugo House? The House puts out an open call for class submissions four times per year, approximately seven months before each quarter. Learn more here.