Hugo House is excited to announce the 2023-24 Hugo Fellows! With this writing fellowship, Hugo House aims to be an incubator for the next great writers, and provide space and resources for emerging Seattle area writers to complete a proposed project. Hugo Fellows work with our Writers in Residence and hold readings throughout the year to share their ongoing work.
A warm and enthusiastic welcome to Celeste Chan, Adelle Dimitui, Cass Garison, Jenne Hsien Patrick, Jordynn Paz, and Neena Viel!
---
Meet the 2023-24 Fellows
Celeste Chan
Nonfiction/Hybrid
Celeste Chan is an artist and writer, schooled by Do-It-Yourself culture and immigrant parents from Malaysia and the Bronx, NY. For ten years, Celeste co-directed Queer Rebels, a queer and trans people of color arts project. She served as long-standing guest curator for MIX NYC Experimental Film Festival and OUTsider Festival (2012-2018), and screened work at film festivals in Montreal, Tijuana, Korea, Berlin, and beyond. Celeste toured the West Coast with Sister Spit, and facilitated LGBTQ history workshops for youth through Queer Ancestors Project. Raised in Seattle/Coast Salish land during the '80s and '90s, Celeste is working to complete a series of essays on Chinese/Jewish/queer histories of resistance.
Adelle Dimitui
Graphic Novel
Adelle Dimitui is a graphic novelist whose work is heavily influenced by her childhood growing up in Myanmar and the Philippines. She aims to highlight underrepresented narratives and cultures, particularly those centered around life in the Global South. Since her graduation from Princeton University, Adelle has been based in Seattle where she currently works in cybersecurity. Adelle spends her free time singing, songwriting, scuba diving, and flying planes. 
Cass Garison
Poetry
Cass Garison is a poet and artist with an MFA from University of Washington, Seattle. They have work published at Poets.org, in Gulf Coast, Bennington Review, Foglifter, and others. They are the Assistant Managing Editor at Chestnut Review and part of the poetry and art collective Eat Yr Manhood. Find them at CassGarison.com.
Jenne Hsien Patrick
Poetry/Hybrid
Jenne Hsien Patrick is a writer and artist based in Seattle. She writes poetry, hybrid text/image works and comics, often incorporating textiles and papercutting. They are currently writing about motherhood, family history, self-preservation and survival as an inheritance from the matriarchal lines of their family. Jenne is a Tin House Workshop alum, and their work has appeared in publications such as Hayden's Ferry Review, wildness/Platypus Press, and Honey Literary among others.
Jordynn Paz
Nonfiction
Jordynn Paz is from the Apsaalooke (Crow) Nation of southeast Montana. Growing up on the reservation, she regularly attended powwows and other cultural/ceremonial events, often with a book in hand. Jordynn received her Bachelor of Arts in journalism and Native American Studies from the University of Montana. As a journalist she covered Indigenous issues including the Missing and Murdered Indigenous Women movement, blood quantum, and the complexities of Indigenous identity. Jordynn was a production assistant for the docuseries Murder in Big Horn which covered MMIW cases within her home community. Jordynn plans to pursue an MFA in Creative Writing in the future. Her focus on fiction and narrative nonfiction allows her to tell stories of her community in an accessible way. Growing up an avid reader she rarely saw her people in modern fiction or classic literature. She hopes to contribute to the amazing work of Indigenous writers of today.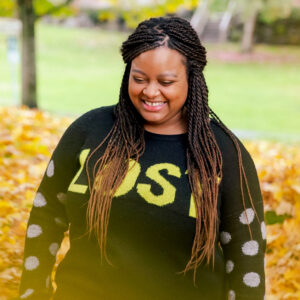 Neena Viel
Fiction
Neena Viel is a horror writer who lives in a cabin in the woods. A 2021-2022 Pitch Wars mentee, her work explores social horror and humor through a Black lens. Her debut novel, Listen To Your Sister, in which three siblings travel to a remote cabin in the wake of events following the youngest sibling's Black Lives Matter activism and confront a nightmare world, is slated for a 2024 release from St. Martin's Press. 
Learn more about the Hugo Fellows program and past fellows here.