3 for 3: Music Inspired by Books Inspired by Water
Presented by The Bushwick Book Club Seattle in partnership with Seattle7Writers, Hugo House, Elliott Bay Book Company, and Town Hall Seattle
This event takes place at Town Hall Seattle | Doors open at 7 pm | Tickets: $10
---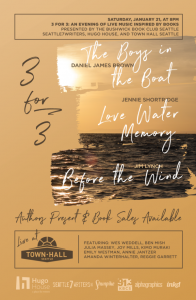 "Not your run-of-the-mill book club," Bushwick shows are highly entertaining, and offer a special look at the authors and books you love. This edition of Three for Three, a collaboration with Seattle7Writers, brings Bushwick Book Club's songwriters and musicians to the stage to perform original music inspired by the water-themed work of three regional Seattle7 authors: Daniel James Brown (The Boys in the Boat); Jennie Shortridge (Love Water Memory); and Jim Lynch (Before the Wind).
Brown, Shortridge, and Lynch, along with emcee Garth Stein (The Art of Racing in the Rain), will be on hand to mingle and sign books.
Performers will include Wes Weddell, Ben Mish, Julia Massey, Joy Mills, Kimo Muraki, Emily Westman, Annie Jantzer, Amanda Winterhalter, and Reggie Garrett.
---
For more information on the event, including partners and sponsors, please visit the ticketing page via Town Hall Seattle.