A Very Didion Christmas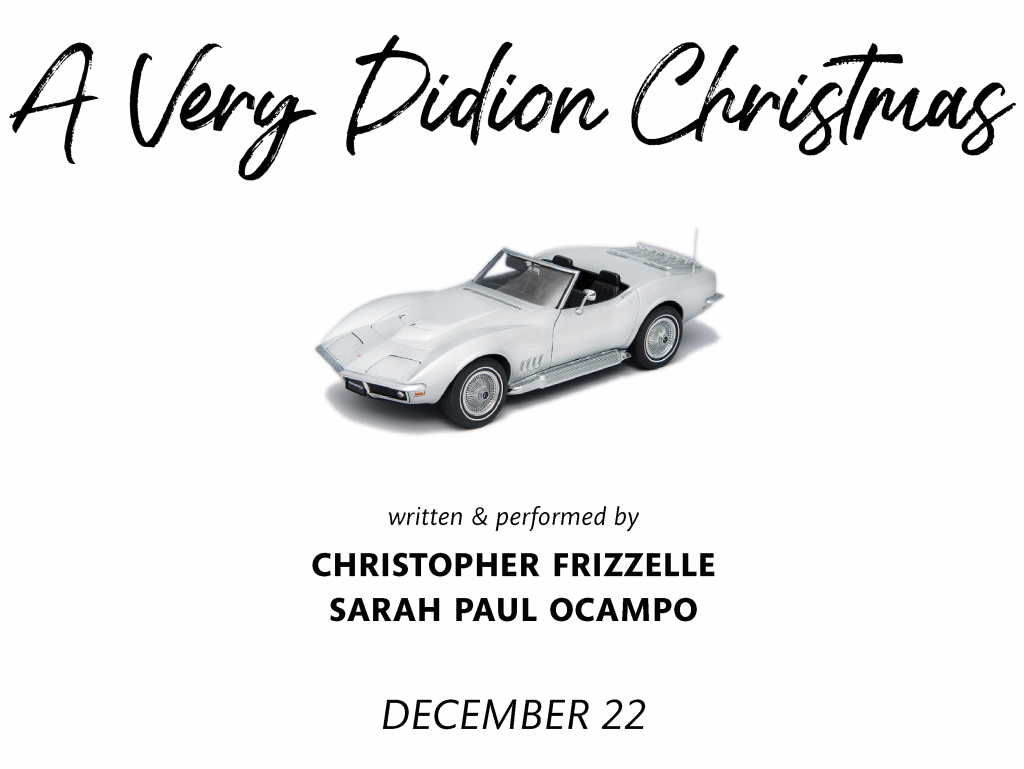 Like baby Jesus, Joan Didion is immortal. In this highly inappropriate and hilarious cabaret act, audiences will get to meet not one but two incarnations of her immortal spirit as she prepares for Christmas. The literary legend will sing some of her favorite Christmas music, share a favorite holiday recipe, and reflect on her experiences in the afterlife hanging out with Ernest Hemingway and George Orwell.
Created and performed by Christopher Frizzelle, editor of The Stranger, and Sarah Paul Ocampo, cofounder of The Typing Explosion, A Very Didion Christmas makes its world debut on December 22. You do not want to miss it. There will be a bar.
About the Performers
Sarah Paul Ocampo was born in Santiago, Chile, and raised in Pullman, WA. She studied classical ballet and theatre under the tutelage of Deirdre Wilson at the Academy of Ballet as well as in Canada, Argentina, and Mexico before continuing her dance training at University of Washington. Her solo and collaborative work has been presented at venues including On the Boards, Seattle Art Museum, New York Public Library, and DIA Beacon. She was the cofounder of the literary performance group The Typing Explosion, which toured both nationally and internationally. Also a musician, she has recorded and performed in bands including Love Hotel, Muy Triste, and The Qualitarians. In 2018, she inaugurated and co-curated a series of quarterly performances at The Factory, an independent art venue in Seattle, for dancers, writers, and musicians to generate new original works.
Christopher Frizzelle was born on an Air Force base in Omaha, Nebraska, and grew up in Los Angeles. He moved to Seattle to attend the University of Washington, which he dropped out of in 2002 to take a job at Seattle Weekly. In 2003, he was fired for trying to get a job at The Stranger. He has worked at The Stranger ever since, first as a book critic and later as its editor-in-chief. He edited a feature story that won a Pulitzer Prize in 2012. His writing has also appeared in Interview, Literary Hub, and elsewhere. He is the coauthor of The Stranger's book of jokes and advice, How to Be a Person. He has an MFA from Bennington College. He is also the inventor of the silent-reading party, which takes place monthly at the Sorrento Hotel and has been replicated in cities around the world.