Bushwick Book Club: Samin Nosrat's Salt, Fat, Acid, Heat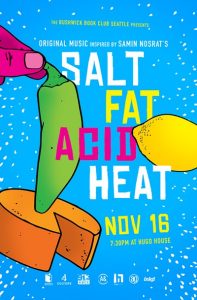 Original Music inspired by Samin Nosrat's Salt, Fat, Acid, Heat
Head into the kitchen with Bushwick with a cookbook that breaks the mold & invents new ways to think about food itself. Adapted into a hit Netflix show, Samin Nosrat's bestselling book explores eating through a joyous celebration of four central ingredients: salt, fat, acid, and heat.
"This beautiful, approachable book not only teaches you how to cook, but captures how it should feel to cook: full of exploration, spontaneity and joy." – Alice Waters
Tickets: $10
---
The Bushwick Book Club Seattle announces its tenth season presenting concerts that feature original music inspired by literature. Each event showcases a lineup of local, professional musicians and artists each offering a fresh response to that evening's source text along with extras like an audience quiz, short film, or scholarly introduction. The Bushwick Book Club Seattle and STYLE: Songwriting Through Youth Literature Education are the twin arms of Bushwick Northwest, a federal 501(c)(3) non-profit arts organization.