Castalia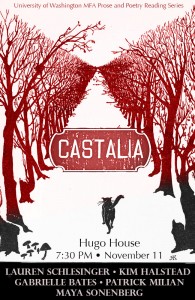 Castalia is a monthly reading series at Hugo House featuring graduate students, faculty, and alumni from the University of Washington MFA program. This evening features first-year poet Lauren Schlesinger, first-year prose writer Kim Halstead, second-year poet Gabrielle Bates, poet and alumnus Patrick Milian, and faculty member Maya Sonenberg.
Lauren Schlesinger is a graduate of the Northwestern University English-Writing program, with an Honors in Poetry, and Master of Science in Education program. In 2009, she completed–Safekeeping–an Honors manuscript about the art of collection and miniatures, under the direction of Averill Curdy. Lauren is a past winner of the American Academy of Poets Jean Aloe Meyer Prize and a recipient of the Northwestern University Alumnae Graduate Fellowship. For the past six years, she has taught English and creative writing in the suburbs of Chicago.
Kim Halstead came from Indiana but would prefer if you didn't ask her about it. She won a Halloween short story contest in 7thgrade and realized that there was something she was good at, which would sadly probably never make enough money to allow her to feed herself.  You can find her around campus by following the scent of salted caramel mochas, the light of her owl-bedecked laptop, and the sound of her collection of foreign-language Harry Potter books dragging on the ground.
Gabrielle Bates was born and raised in Birmingham, Alabama. She is the coordinating editor of The Seattle Review and twitter editor of Broadsided Press. Recently named an Indiana Review Poetry Prize finalist, a Fairy Tale Review Poetry Contest finalist, and winner of Gigantic Sequins' poetry comic contest. Her work appears in Rattle, Guernica, Southern Humanities Review, The Journal, Radar Poetry, Thrush, and other journals. She can be found online at www.gabriellebatesstahlman.com or on twitter (@GabrielleBates).
Patrick Milian is a doctoral student, Wayland Fellow, and instructor in the English department of the University of Washington. His work has recently appeared or is forthcoming in Denver Quarterly, Hayden's Ferry, The Los Angeles Review, Prelude, The Seattle Review, Fourteen Hills, The McNeese Review, Wave Composition, and several other journals. His musical collaborations with composer Vasilios Makavos have been produced by Arizona State University's Lyric Opera Theatre and his work with visual artist Harry Gleeman has been featured in Monologging. Currently, his research includes multimedia studies and opera libretti. He's published and delivered papers on Ezra Pound, Arnold Schoenberg, EM Forster, Benjamin Britten, John Dryden, and Henry Purcell.
Maya Sonenberg is the author of the story collections Cartographies and Voices from the Blue Hotel, and a chapbook of prose and drawings titled 26 Abductions.  Other fiction and nonfiction have appeared in Fairy Tale Review, Web Conjunctions, DIAGRAM, The Literarian, Hotel Amerika, and numerous other places. She teaches in the creative writing program at the University of Washington—Seattle and has received grants from the Washington State Arts Commission and King County 4Culture.