Cheap Coffee and Young Adult Fiction
On September 27, we invite you to come to Cheap Coffee & Young Adult Fiction featuring YA authors Sean Beaudoin, Kevin Emerson, Karen Finneyfrock and Lish McBride.
This reading is free, all ages, and will take place in the Richard Hugo House cabaret.
Following the format of the popular Hugo series Cheap Wine & Poetry and Cheap Beer & Prose, Cheap Coffee & Young Adult Fiction will feature four readers, one break and inexpensive beverages, but don't worry, coffee aficionados: "cheap" isn't a value judgment. We're offering great coffee (thanks, Caffe Vita!).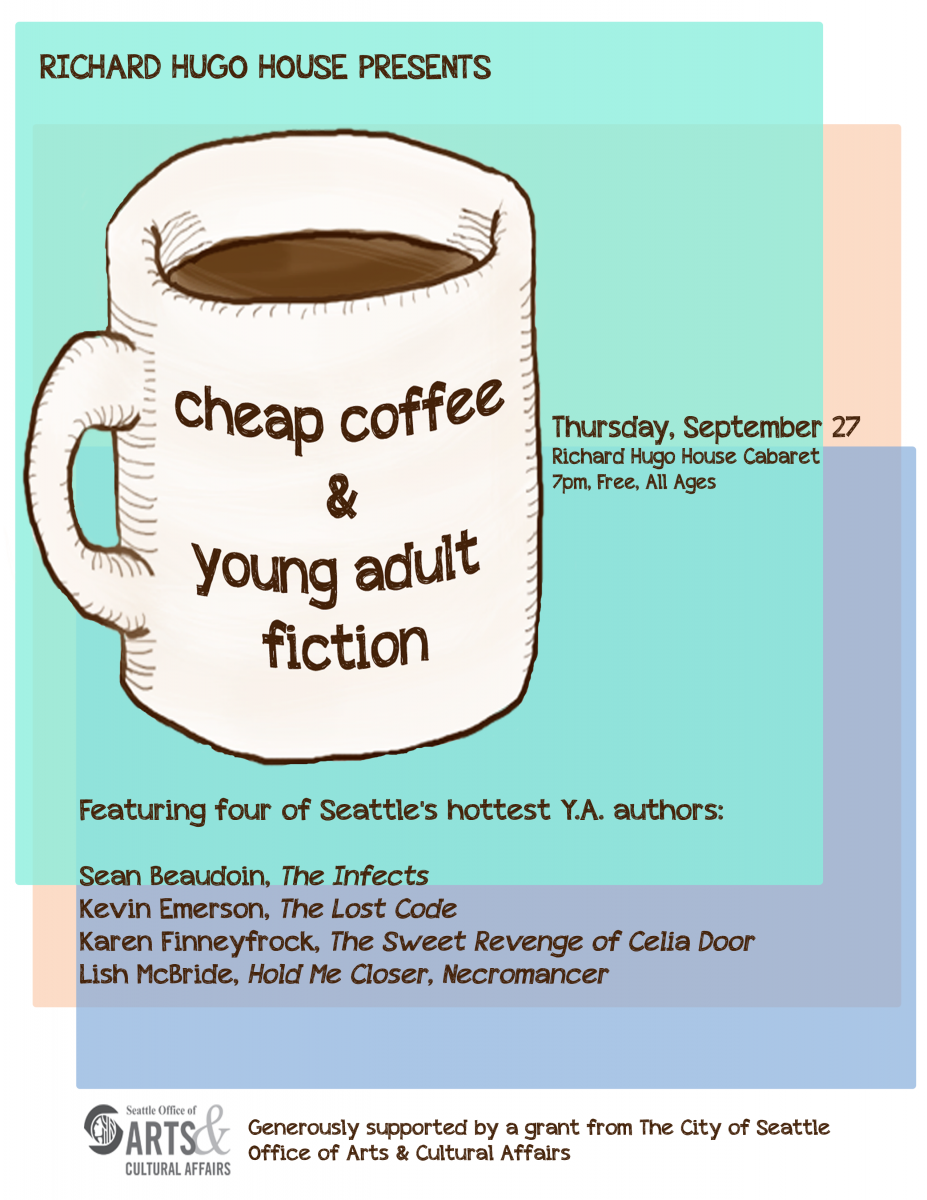 RSVP on Facebook here!
Featured Authors:
Sean Beaudoin is the author of The Infects, a zombie novel released mere days ago and now shambling its way toward you. His other books include Fade to Blue, which is about a girl who gets run over by an ice cream truck, and You Killed Wesley Payne, which is fairly self-explanatory. He almost always ends his bio with an ironic comment.
Kevin Emerson is the author of the Oliver Nocturne series and Carlos is Gonna Get It. His next novel, The Lost Code, the first book in the Atlanteans series, came out in May from Katherine Tegen Books. His next middle grade novel, The Fellowship for Alien Detection, comes out in January, 2013, with Walden Pond Press. Kevin is also a musician. His current project is the Board of Education, where he writes imaginative, poppy songs about elementary school and life, in the spirit of Schoolhouse Rock.
Karen Finneyfrock's first young adult novel, The Sweet Revenge of Celia Door, is due from Viking Children's Books in February, 2013. She is a former Writer-in-Residence at Richard Hugo House in Seattle and teaches for Seattle Arts and Lectures' Writers-in-the-Schools program. Karen's second book of poems, Ceremony for the Choking Ghost was published by Write Bloody in 2010.
Lish McBride was raised by wolves in the Pacific Northwest. It rains a lot there, but she likes it anyway. She spent three years away while she got her MFA in fiction from the University of New Orleans, and she liked that too, although the hurricane did leave much of her stuff underwater. Her main goal in going to college was to become a writer so she could wear pajamas pretty much all the time. She enjoys reading, movies, comics and preparing herself for the inevitable zombie apocalypse. Currently, Lish lives happily in Seattle where the weather never actually tries to kill you, with her family, two cats, and one very put-upon Chihuahua. She is slowly building her garden gnome army.
This event is generously supported by a grant from the City of Seattle Office of Arts & Cultural Affairs.