Clarion West Presents: A Reading by Amal El-Mohtar
Join us and Clarion West Writers Workshop for a reading by poet and fiction writer, Amal El-Mohtar.
---
About the Author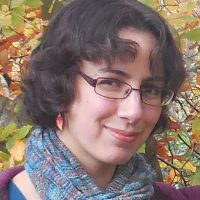 Amal El-Mohtar is an award-winning writer of fiction, poetry, and criticism. Her stories and poems have appeared in magazines including Tor.com, Fireside Fiction, Lightspeed, Uncanny, Strange Horizons, Apex, Stone Telling, and Mythic Delirium; anthologies including The Djinn Falls in Love and Other Stories (2017), The Starlit Wood: New Fairy Tales (2016), Kaleidoscope: Diverse YA Science Fiction and Fantasy Stories (2014), and The Thackery T. Lambshead Cabinet of Curiosities (2011); and in her own collection, The Honey Month (2010). Her articles and reviews have appeared in the New York Times, NPR Books, and on Tor.com.