David Schmader's A Short-Term Solution to a Long-Term Problem
A whipsmart comedy about unfunny things, A Short-Term Solution to a Long-Term Problem is writer and performer David Schmader's solo play, first performed in 2012. The play is about the dramatic life upheaval that drove Schmader to spend a decade "living every day like it's your last!" Based on Schmader's autobiographical performance at a Hugo House Lit Series event, the play was commissioned to share Schmader's profoundly ridiculous adventure and direct his pointy-headed wit at marriage, Mormons, and the type of relaxation that comes from watching a baby get a spray tan. Directed by Matthew Richter.
The show, which runs for one night only, premieres at 8 p.m. on Sept. 19. $15 general admission and $10 students.
---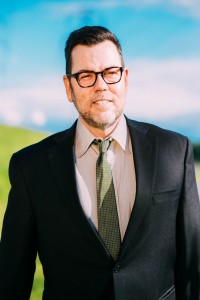 David Schmader is a writer and performer who's been living and working in Seattle since 1991. A performance artist devoted to everyday behavior, complicated ideas, and serious comedy, Schmader writes autobiographical solo plays that tackle larger social and cultural issues. Directed by Dan Savage, Chay Yew, and Matthew Richter, Schmader's shows have toured the country. Schmader has been a writer for the Seattle newsweekly The Stranger since 1998 and is currently writing Weed: A User's Guide, which will be published by Sasquatch Books in spring 2016.
Matthew Richter has been working with David Schmader since 1993 when Richter produced "Letter to Axl" in Rm 608, his tiny Capitol Hill gallery for visual and performing arts. Since that time, Matthew has served as the performance editor of The Stranger (where he hired David as a freelancer) and written for journals and newspapers across the United States. His recent directing credits include "West" at On the Boards, "My Arm is in the Air" at On the Boards, and his own multi-disciplinary food-based extravaganza "Dinner Theater" at On the Boards and at Smokefarm. He is the founder and former executive director of the Consolidated Works contemporary arts center, and is currently the director of the Storefronts Seattle program. His furniture designs, created under the moniker "xom," have been seen in galleries and stores around Seattle, as well as in private collections across the country. He has lectured on the arts at the University of Washington, Seattle University, and Cornish College of the Arts. He is the scenic designer for all shows in Spectrum Dance Theater's 2011-2012 season. He lives in Seattle with his wife and son.