What I Didn't Know: True Stories of Becoming a Teacher | Anthology Launch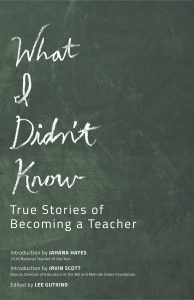 Whether in the Mississippi Delta or Malawi; Alaska or Los Angeles; whether in their first day or their tenth year on the job—educators take on challenges every day, big and small, from moving back into a school building after a shooting to keeping first graders on task.
What I Didn't Know (In Fact Books) collects twenty true stories about what it takes to be a teacher. The lessons don't always come easy, but these riveting, funny, inspirational, and sometimes shocking stories provide real insight into the hearts and minds of those who teach and those who have been taught.
Tonight, three contributors will read their stories from the anthology: Michael Copperman, whose memoir, Teacher: Two Years in the Mississippi Delta (University Press of Mississippi) will be published in September; Caitlin Dwyer, a writer and educator based in the Pacific Northwest; and Deborah Meltvedt, a high school teacher and writer.
"The best first-person account of teaching I've ever read. The stories these educators tell are essential reading for anyone who seeks to understand how the politics of educational policy shake out in the daily lives of teachers." –Jessica Lahey, author of The Gift of Failure: How the Best Parents Learn to Let Go So Their Children Can Succeed
"Candid accounts of what is happening in the intimate spaces of classrooms across the country—microcosms of the issues that simmer below the surface of our world at large." –Brenda Miller, co-author of Tell it Slant: Creating, Refining, and Publishing Creative Nonfiction
---
Michael Copperman teaches low-income, first-generation college students of diverse backgrounds at the University of Oregon. His prose has appeared in the Oxford American, The Sun, Creative Nonfiction, Salon, Gulf Coast, Guernica, Waxwing, and Copper Nickel, among many others, and he has won awards and garnered fellowships from the Munster Literature Centre, Bread Loaf Writers' Conference, Oregon Literary Arts, and the Oregon Arts Commission.
Caitlin Dwyer graduated with a master's in journalism from the University of Hong Kong in 2013. She taught English for three years in China and now lives in the Pacific Northwest, where she works as a freelance writer and English teacher. She has written for a range of publications, including Creative Nonfiction, the Los Angeles Review of Books, the Asian Review of Books, Europe Up Close, and Buddhistdoor Global, where she is a columnist.
Deborah Meltvedt is a high school teacher and project coordinator who loves to combine health and medical topics with creative writing, both in her own writing and as prompts for her students. She has been published in the Sacramento Poetry Center's Tule Review, The American River Review, and the true story anthology Under the Gum Tree. Deborah lives in Sacramento with her husband, Rick.