Don Mee Choi: Translation is a Mode=Translation is an Anti-Neocolonial Mode | A Bagley Wright Lecture Series Event
Fireside Room at Hotel Sorrento (900 Madison Street)
Presented in partnership with The Bagley Wright Lecture Series on Poetry
Acclaimed poet Don Mee Choi will discuss Walter Benjamin's bread, Korean cornbread, warships, Ingmar Bergman's The Silence, and Kim Hyesoon's mirrors in her exploration of translation.
Books will be for sale from Open Books: A Poem Emporium.
---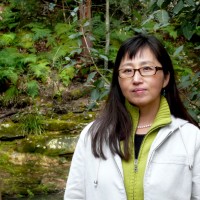 Don Mee Choi is a poet and author of the collections Hardly War (Wave Books) and The Morning News is Exciting (Action Books) as well as numerous works in translation. She has received a Whiting Award, Lannan Literary Fellowship, and Lucien Stryk Translation Prize. She is also a recipient of translation grants from Daesan Foundation and Literature Translation Institute of Korea. Born in Seoul, she came to the US via Hong Kong, and now lives in Seattle. She is an advisory editor for Action Books: Korean Literature Series and teaches Adult Basic Education at Renton Technical College's community-partnership site in Downtown Seattle.
---
The Bagley Wright Lecture Series on Poetry is a nonprofit that provides leading poets with the opportunity to explore in-depth their own thinking on the subject of poetry and poetics, and through financial and logistical support, to arrange for the delivery of lectures that result from these investigations. The Seattle Series, an extension of this work, brings lectures, workshops, poetry readings, and other investigations of poetics to the area in collaboration with partners like Hugo House and the UW Bothell Creative Writing Program. More information can be found on their calendar.