Eat Read Hugo 2017 [SOLD OUT]

Eat Read Hugo 2017
Palace Ballroom (2100 5th Avenue)
6 pm | Cocktails and hors d'oeuvres
7 pm | Dinner and live auction

Hugo House is celebrating 20 years of opening the literary world to everyone who loves books or has a drive to write. Join us in celebrating—and help lay the foundation for 20 more years—at Eat Read Hugo, our annual dinner and live auction that raises up to $150,000 each year for writing classes, youth programs, and scholarships.
Laugh with auctioneer Laura Michalek and emcee Karen Finneyfrock, and be moved by the power of words from our special guest speaker Sherman Alexie. Bid on speciality items that pair literary experiences with whimsy and adventure, and raise your paddle to support Hugo House and the writers we serve.

This event is currently sold out.
---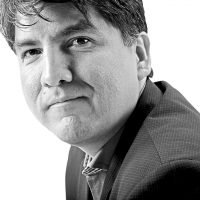 Sherman Alexie, a renowned writer and winner of countless prestigious awards, has written 25 books, including his first picture book, Thunder Boy Jr., and young adult novel, The Absolutely True Diary of a Part-Time Indian, both from Little, Brown Books for Young Readers; the poetry collection What I've Stolen, What I've Earned (Hanging Loose Press); and Blasphemy: New and Selected Stories (Grove Press). The 20th Anniversary edition of his classic book of stories, The Lone Ranger and Tonto Fistfight in Heaven, was also recently published. Smoke Signals, the movie he wrote and co-produced, won the Audience Award and Filmmakers Trophy at the 1998 Sundance Film Festival. A Spokane/Coeur d'Alene Indian, Alexie grew up in Wellpinit, Washington, on the Spokane Indian Reservation. Alexie has been an urban Indian since 1994 and lives in Seattle with his family.
---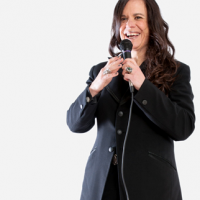 From antiques to auctions, Laura Michalek has been an Auctioneer Extraordinaire for the past 15 years. Prior to her career as an auctioneer, Michalek owned and operated four vintage furniture shops in Seattle between 1994 and 2005. Somewhere along the way, she became sold on the idea of grabbing a microphone and working as a full-time auctioneer herself. Today, she takes the stage at dozens of local fundraising auctions each year, helping schools, communities, and arts organizations.
---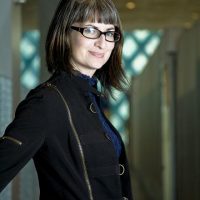 Karen Finneyfrock is a poet and novelist in Seattle. She is the author of two young adult novels: The Sweet Revenge of Celia Door and Starbird Murphy and the World Outside, both published by Viking Children's Books. She is one of the editors of the anthology Courage: Daring Poems for Gutsy Girls and the author of Ceremony for the Choking Ghost, both released on Write Bloody press. She is a former writer-in-residence at Hugo House and teaches for Seattle Arts & Lectures' Writers-in-the-Schools program. In 2010, Finneyfrock traveled to Nepal as a Cultural Envoy through the U.S. Department of State to perform and teach poetry and in 2011, she did a reading tour in Germany sponsored by the U.S. Embassy.
---
Thank you to this year's sponsors:
---
Learn about how your business can sponsor this event here. For more information or if you have an item or experience you'd like to donate for our live auction, contact Louise Kincaid at louise@hugohouse.org or call 206-322-7030 ext. 104.