Eileen Myles: Evolution
Eileen Myles reads from Evolution (Grove/Atlantic), their first all-new collection of poems since 2011's Snowflake/different streets–and following Afterglow (a dog memoir), as well as the volume of selected poems, I Must Be Living Twice.
With Evolution, we find the eminent, exuberant writer at the forefront of American literature, upending genre in a new vernacular that enacts the way we speak (inside and out) today. From travel around the world to walks around Marfa Texas with Honey the pitbull, from the aisles of Target to a utopian future where Myles is elected president – channeling cell phones, Shakers, Diet Coke, and Fresca, Evolution radiates with Myles' characteristic vital insight, purpose, and risk.
Presented in partnership with the Elliott Bay Book Company
---
"Eileen Myles is an estuary of a writer. The voice on the page is so fluid and expressive and unembarrassed that it makes you want to join it. Myles's sentences tilt and wobble like a living mind." – Sam Anderson, The New York Times Magazine
---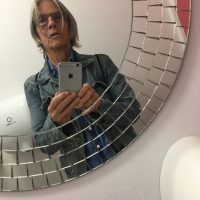 Eileen Myles is the author of more than twenty books, including Chelsea Girls, Cool For You, and I Must Be Living Twice: New & Selected Poems 1974-2014. Myles's many honors include four Lambda Literary Awards, the Clark Prize for Excellence in Arts Writing, the Shelley Memorial Award from the Poetry Society of America, Creative Capital's Literature Award as well as their Andy Warhol Foundation Arts Writers grant, and a Foundation for Contemporary Arts grant.
---
All events are free and open to the public unless otherwise noted.