EVERY LAST WORD: a celebration of poetry and readers presented by Copper Canyon Press
---
"Every last word is contagious."
-Jericho Brown
"Who am I writing for?
For you and everything alive inside of you."
 -Vicente Aleixandre
---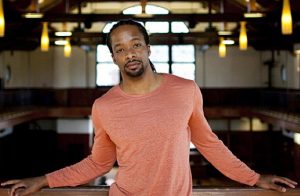 Join Copper Canyon Press December 7 for their annual poetry mixer, reading, and book sale. This year the theme is EVERY LAST WORD and the featured author is Jericho Brown. The evening will be a celebration of the gift that is given between the poem and the poetry reader. Copper Canyon staff will be on hand to chat with guests about what they do, and more importantly to play poetry matchmaker, searching for the right book to light up each reader. The first 200 people to RSVP (link below) will receive a complimentary book of poetry at the door.
Featured author Jericho Brown is an award winning, roof-raising, highly dynamic poet. He won the American Book Award for his first collection, Please, and will read from his highly anticipated second book, New Testament. Executive Editor Michael Weigers will join Brown on stage to do a bit of dialoging about the making of the book. After the reading, attendees are invited to stick around, shop from our table for holiday gifts, and raise a glass to another great year of poetry.
---